About the Podcast
"The School of Podcasting" Is a podcast that helps you discover the power of podcasting. It helps you avoid the common mistakes that podcasters make.  From planning, producing, and promoting your podcast along with all the tools and techniques. If you're looking to start a podcast or a veteran podcaster, you can catch some great insights with this free podcast. Subscribe for free in iTunes
About Dave Jackson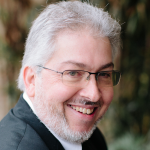 I've been podcasting since April of 2005. My podcast about podcasting has been downloaded over 3.1 million times (as of 2022). I've helped hundreds of people launch podcasts. Before podcasting, I used my degree in education (specializing in technical education) to harness the power of hardware and software (going back to fax machines and this new thing called e-mail and the Internet).
To hear what my client say, please visit my testimonial page.  
How Dave is Different

Unlike many other "geeks" who know how to podcast, I've been a technical trainer for over 20 years. This means not only do I understand the technology but I can explain it in a plain English "geek-speak free" environment. I have a Bachelor's Degree in Education from the University of Akron (Specializing in technical education). While there are other podcast consultants, I believe my experience sets me apart in regards to helping you make sense of the entire podcasting process. I not only help with the "how," but I also help explain the why, and make sure you avoid the common podcasting pitfalls. I have won awards at fortune 500 companies for my customer service. In a nutshell, I care.
I am one of the top podcast consultants, and I have spoken at many marketing and media conventions including New Media Expo, Blog World, Erma Bombeck Writing Workshops, Podcamp Columbus, Podcamp Cleveland, Podcamp Cincinnati, and the Business of Writing Summit. I am the author of the book Profit From Your Podcast.
In 2014 I was named the Director of Podcasting for the New Media Expo the top event in the industry.
In 2018 I was inducted into the Academy of Podcasters Hall of Fame.
In 2020 I authored, Profit from Your Podcast (via skyhorse publishing).
About the Closing Music
The closing song is "Go Tell Somebody" by Kings X (one of my favorites). You can find them at www.kingsxrocks.com and purchase their music in iTunes and Amazon. Used with permission.
About the School of Podcasting Website
The School of Podcasting is for the person looking to launch their own podcast. They want to do it right the first time. They want to be seen as an expert, reach a global audience, make more sales, know their audience, meet like-minded people, and grow their community.
I have great step-by-step tutorials that will show you how to use podcast software titles like Audacity (a free software package),
Adobe Audition
,
Sound Forge
, and more. These tutorials walk you through the entire podcasting process.
These podcast tutorials include:
Computer 101
Learn how to manage files, cut copy and paste and more.
Planning Your Podcast
Picking a name, choosing a podcast host, setting up your blog, choosing what podcast tools are best for you. You can avoid the mistakes the most podcasters make.
Producing Your Podcast
Getting a professional sounding podcast, choosing the best Podcasting software, podcasting style, hardware, and help you get everything plugged in and working. You will also learn what type of hosting you need (both web and media).
Building Your Website
Learn how to build your website from scratch using a free program called WordPress. Watch tutorials on plugins, themes, and everything you need to make a great looking website.

Promoting Your Podcast
It's time to put on your marketing hat. In addition to the numerous bonuses you receive for being a member, you will learn tips and tricks that will save you HOURS in getting the word out about your podcast
I so strongly believe in my tutorials and our consulting sessions that I offer a 30-day money back guarantee.
Connect with Dave