Work With Me
I've been podcasting since 2005, and I've seen a lot of things come and go. I can help you plan, launch, grow and monetize your podcast. I offer my services in a variety of shapes and sizes.
The Dave Jackson Difference
While other podcast gurus can coach on you on equipment, media hosts, and all the other pieces of podcasting. Those are the easy parts. What gets people coming back to your show is the content. I've been podcasting since 2005. In 2016 I joined Libsyn (the largest podcast media host) in their tech support (giving me a wide view of the podcasting space). I've been voted the best technology podcast in 2017 and again in 2020. In 2018 I was inducted into the Academy of Podcasting Hall of Fame. I am the author of the book Profit From Your Podcast: Proven Strategies to Turn Listeners into a Livelihood. I have proven strategies to help you understand your audience (even if you don't have one), and take the guesswork out of making a great show that inspires people to tell their friends.
Podcast Mentorship Programs
Podcast mentoring consists of access to the School of Podcasting along with me working side by side with you on a weekly 30-minute call to guide you through launching/growing your show. This includes:
Help you with your vision, strategy, and (most importantly) your "Why." You need to determine how you will measure your success. Many podcasters skip this, and they shouldn't.
Help you identify your target audience (sometimes called your "avatar"). Oprah called hers "Suzie homemaker."
Help you communicate in a way that helps you grab and keep the audience's attention.
Help you create your intro and outro (two of the most important parts of your podcast)
Developing the flow of information in your episode.
Help you choose a name that will catch the eye of the audience, and also help you be found by search engines.
Help you develop a show description that will engage your target listener.
Provide resources for music, logos, editing, and hosting.
Determine the best equipment for your unique situations (one size does NOT fit all).
Help you understand and get the best audio from your equipment.
Help you plan and launch your show for maximum impact.
Go over the strategies used for monetization and determine which one is best suited for your show.
Help identify the purpose of ID3 tags, how to use them, and what tools to create them.
Help you with understanding SEO Plugins and help you maximize your posts for search.
Understand popular WordPress Podcast Related Plugins and how to use them.
Enhancing your interview skills to create interviews your guests will want to share.
Walk you through setting up your RSS feed so that it passes all validation tests.
Guide you step by step to submitting your podcast to Apple, Spotify, and other directories.
Helping you track your downloads and understand the statistics.
Promoting your launch on my social channels and podcasts.
How to make a website for your show without any coding skills.
What Does Mentoring Look Like?
Weekly recorded sessions (so you don't have to take notes) that are shared with you after the meeting.
Each call will have a clear agenda with action steps. A typical call is 30 minutes
You can email me in between our time together and I will reply within 24-48 hours.
I may answer in video format to illustrate a point in some cases.
To help you sharpen your vision and purpose, I have some worksheets to fill out when we first start out that help you identify the path to success.
When your episodes are created I will listen to them and let you know what you're doing correctly and what you may need to tweak.
Podcast Quick Start $997 – NOW AVAILABLE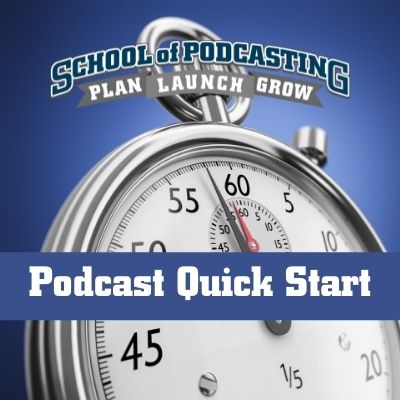 Three Month Access to School of Podcasting
Three hours of one-on-one consulting via zoom included. Typically used in 30-minute calls on a weekly basis.
Work side by side to plan, and launch your podcast.
Podcast Reviews of Your Episodes,
School of Podcasting Memberships
With other online courses, you place your order and you are "on your own." This is not the case with the School of Podcasting. In addition to the step by step courses you have:
Step by step tutorials
Podcast Mastermind on Facebook is Safe to share your ideas.
Direct "hotline"  to Dave Jackson with 24-48 (often MUCH quicker) and email support.
Live group coaching for live question and answer sessions.
You are never alone, and I don't want you frustrated. You are never "bugging" me.
See all 17 Courses at www.theschoolofpodcasting.com All courses are $99/each. A much more budget-friendly option is to sign up for a monthly or yearly membership
School of Podcasting Monthly Membership $79/month
Get access to ALL of the online tutorials
Access to live group coaching twice a month
Access to Private Podcasting Mastermind Group
Direct support via video chat and email.
School of Podcasting Yearly Membership $999/year
Get access to ALL of the online tutorials
Access to live group coaching twice a month
Access to Private Podcasting Mastermind Group
Direct support via video chat and email.
Two Free Months
30-Minute Kick off Call via Zoom
Need A Few Questions Answered?
Schedule a one-on-one consulting call to get you going in the right direction.
Schedule Appointment
Other Dave Jackson Faces?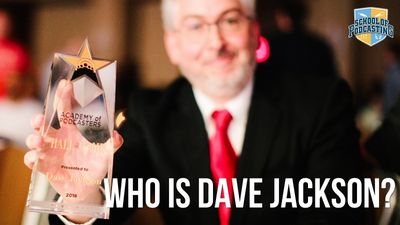 I have been helping people understand technology for over 30 years.
Over 3 Million downloads of his School of Podcasting show.
Features speaker at Podcast Movement, Podfest, Mapcon, Fincon, and many, many others.
Cherished Uncle.