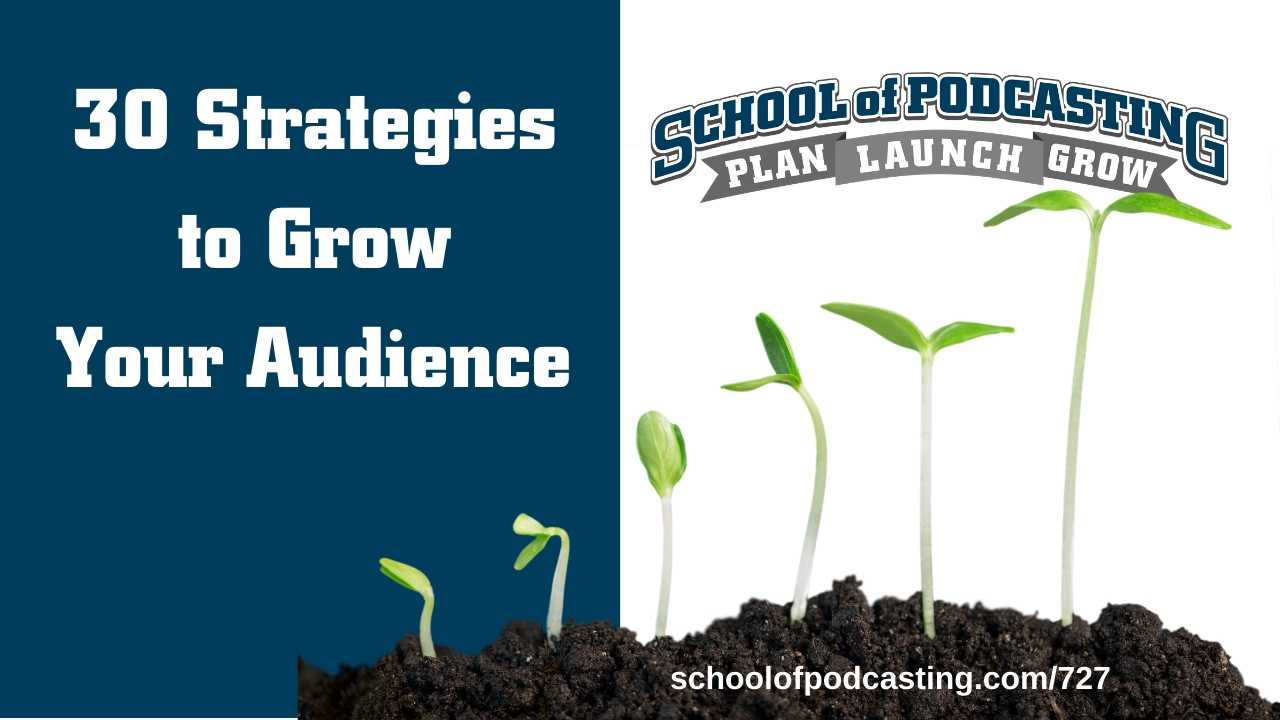 I've been holding "podcast happy hours" during the pandemic. This is a place when some of us just wanted to talk to someone besides the cat. In one of those sessions, Scott Johnson from What Was That Like? shared how he ad success swapping episodes with another similar podcast. This got me thinking about strategies to grow your audience. This episode is sponsored by Focusrite
Before Your Start Promoting
Don't start telling people about our show until you know you can keep them. It makes no sense to usher everyone in the front door of the Theater if they are using those side exits once they start consuming your content. I've said it before creating a podcast is NOT HARD. You can fart into your phone and have it on Apple podcasts a week later. It's not hard. Creating a good podcast is hard. 
Characteristics of a Great Podcast?
Information you can't get anyplace else. In this episode at 2:36 mark you hear how (not too long ago) the State of Virginia passed a law for colonial citizenship in 1680 stating that you could not be a citizen if you had "one drop of blood" in you that was not from a white person – and here is the kicker – except for John Rolfe and Pocahontas (who now had children who were wealthy and successful). When I heard that I was like WHAT? That's not on his Wikipedia page. Other great examples are Congressional Dish and the No Agenda Show. Other super niche shows like Adoptees On (for people who were adopted), We Have Cancer, or Chameleon Breeder all have the information you can get anyplace else.
But My Show Isn't Super Niche Is That a Problem?
Every night the president of the United States, the Prime Minister of other countries will do and say something, and multiple sources will cover the story. Each one has their own viewpoint and personality. I listen to James Cridland from Podnews.net and while James does a great job of taking information that yes I could get someplace else, (but who has the time?). He doesn't do it frequently, but every now and then he will put in a subtle, proper English bit of sarcasm that makes me smile. I have two McDonald's near my home. They are almost exactly the same distance from me, and yet I always choose one over the other. Why? I get a smile. They seem friendly and thank me for coming. Today I'm doing a show about growing your podcast audience that is a bit strategy specific. My friend Erik K Johnson (and co-host of www.podcastreviewshow.com) has an episode on building his audience and his Audience Amplification course. In Erik's episode, he talks a bit more about making your content great. Two people – two different personalities – two different episodes.
Great Podcasts (or really any content) Make You:
If they aren't doing any of the above they are more than likely educating you or entertaining you.
Strategies to Grow Your Audience
In a nutshell, it boils down to this.
1. Identify who your audience is
2. Determine what content they want to hear.
3. Create content that will inspire them to tell a friend (in other words, its good)
4. Go to where your target audience is
5. Make friends with them, and bring value to every conversation, listen for ideas for future episodes.
6. Then tell them about your show
Now let's take that into more specifics:
1. Episode Swap
Scott Johnson does the What Was That Like? Podcast. This is where you find a similar podcast and you upload one of their episodes into your feed (and they upload one of yours). I would do what Scott did which was you (as the host of your show) introduces the new podcast, explain that they may like this show if you like your show, and then play it in its entirety. You can come back at the end, promote your next episode, tell people where to find your show, and the one you swapped episodes with and call it a day. You could do this as a bonus episode.
2. Be a Guest or Have a Guest On Your Show
Adam Curry was on the Joe Rogan experience and he has been reporting on how many people have said they heard him on that show (it helps that is the top podcast). I did a whole episode on performing interviews and how to be a guest on episode 677
3. The "Glenn the Geek" Tradeshow Stragedy
Go to a trade show in your industry and ask for to have a booth. (assuming we are meeting in person). You promise to interview vendors and speakers and talk about the show, all you need is a booth. This gets you in the middle of your audience. You are talking to vendors (Who could very easily be turned into sponsors) and you are growing your network by interviewing all the speakers.
4. Create A Landing Page For Your Podcast
This should have a player with either a short montage of different episodes (a trailer) or something so people know what it is. You should have a clear, click enticing description (who is this for, and how they will benefit). Then have buttons to subscribe, and if you want a paragraph about the hosts. There are all sorts of weird tools people are using on sites like Instagram where you only get one click in your profile. Don't send people to a third party service make a landing page geared to making people SUBSCRIBE.
5. Add a Signature to Your Email
Chances are you are exchanging emails with people in your field. Make it easy to subscribe to your show by putting a link to your landing page. If you're using Gmail (or really most email providers) you can have one link displayed (schoolofpodcasting.com) and then have a trackable link as the actual link (for those stat junkies, this could be a pretty link, or a bitly link just so you can see how many people click the link in your email). If you want to make a super cool looking signature, check out wisestamp.com
6. Use Social Media
OK, full transparency here….
I suck at social media. With that said, here is my goal. I don't just want to post post post information about me. I want to start conversations and get to know my audience. You can use social media to find out what people are talking about, as well as promote your latest episode.
7. Make Sure Your Show Is Easy to Share Your Website
When people find something cool, they want to tell their friends. Back in the day, I was the first person Social Warfare who was listening to Quiet Riot. Your audience wants to be viewed as someone who always knows where the "Good stuff" is, and you can help them by making it easy to share. My favorite tool for this is the Social Warfare plugin.
8. Make It Easy For Your Guests to Share Their Episode
You can use a tool like clicktotweet.com so you pre-write a tweet so that all your guest needs to do is click it once and it opens twitter and writes the tweet for them. You can also provide graphics, etc. You want to thank all the thinking out of the process for your guest. If you're using Libsyn's advanced stats you can create a custom tracking code to see how much traffic a guest is driving to your site. For me, I make it easy to share, but I feel it's my responsibility to share the show (not the guest). I always appreciate those guests that do, but I don't get angry if they don't.
9. Write Good Headlines
If you turn on a TV or Radio something starts. This is not the case with most podcast apps. So what gets your audience to click in the morning when they pick up their phones? Your headline. You want any keywords to be closer to the beginning than the end of your headline. There is no need to put the name of your show in the title. Any app that someone is using to listen, the name of the show is very close to the episodes. You're wasting the VERY VALUABLE space. Likewise, which is going to get your to click, "Episode 16" or "How to save time and money"? I've seen people triple their downloads. Also, you CAN go back and update your headlines.
10. Write Good Show Notes
To attract Google you need words on your page. But not just words, GOOD WORDS (sorry unedited transcriptions don't work). Use headings to allow people to scan the page to see if this interests them. Break your paragraphs apart and use headings (see above). Always, above everything else write your show notes for people.
SPONSOR: FOCUSRITE
* 
Scarlett, now in its 3rd Generation, is the world's best-selling USB interface range with over 3 million units sold worldwide
* Choose from 6 different interfaces with 1, 4, or 8 microphone inputs depending on the number of hosts and guests on your show
* Superior sound quality makes sure you sound your best
* Works with the recording software you're already using
* Works with any type of XLR microphone
* Loopback on select units allows you to record Skype or Zoom calls directly into your recording software with no workarounds
* New unique Air feature adds brightness and presence to your voice
Check out the interface selector tool that helps you pick the right model for you at their website.
11. Use Popular Keywords
Ther are great tools such as Mangools or Ubersuggest that have tools to make it easy to find keywords that are popular. Always, above everything else write your show notes for people. Don't just have keyword, keyword, keyword. Remember Google wants GOOD words.
12. Use Graphics/Photos
While many apps ignore episodic artwork, it is another way to capture attention which can lead to more people clicking. If you have images on your website, it again can slow the scroll as people check out your website.
13. Be Everywhere
List your show in ALL the directories. Do you want more listeners? Then I will NEVER understand people who want to make people jump through hoops to get to your show. Submitting your show for approval never takes more than 10 minutes in most cases. At a bare minimum, it should be in Apple Podcasts, Google Podcasts, and Spotify. For a full list see http://podcastconsultant.com/top-podcast-directories/
14. Hijack the News
If there is something in the news that you can use in your show, why not talk about it? In theory, people will be looking for this information. This is called newsjacking.
15. Master the Art of the Tease
If someone is listening to your show and you explain what is coming in the future, this might inspire them to subscribe to your show. You can also remind people what was covered last week. This again lets a new listener hear a topic that they will like, they hear the current topic (that got them to click) and then hear what is coming in the future. Saying "the news is coming up" is not exciting. Also, don't give away the story. Remember this is a TEASE. The bottom line is you need to make it interesting. You're not going to believe what so and so did when they got a bad review. You have to entice them and get them wondering what happened. It's even better it effects them. If I said, I have a way to triple your downloads coming up right after this, you would probably stick around (and for the record, I've seen a real headline vs an "episode 16" headline triple downloads).
16. Answer Questions in Forums/Groups/Reddit/Quora
This does two things. It helps you see what your audience is looking for, and if you answer a question well, and often, they are going to click on your name to see who you are make sure your profile has a link to your website. This strategy is a bit slower of a burn than others.
17. Wear Your Brand
When I go to concerts, airports, or any other place where there are going to be large crowds I wear a School of Podcasting T-shirt. When I speak at an event, I try to park near the door where everyone enters. Why? Because my back window has a sticker from Sticker Mule that has my website. In an act of over-achievement, my license plate is " PODCAST." I use TeePublic for my merch
18. Host Local Events
I host the Northeast Ohio Podcasters monthly meetup at meetup.com. The group isn't gigantic, but I've met some great people and had some good discussions and a few have joined the School of Podcasting. In many cases, it's not who you know, but more importantly who knows you.
19. Business Cards As Promotional Tools
Business cards are not that expensive. My last order of 500 cost me $27.36. That is 55 cents. It's for a new test show I'm doing about Akron, Ohio. It has AKRON PODCAST in giant letters across the skyline of Akron with my tagline and website. On the back, I have a QR code with the phrase "point your smartphone at the square." When they do it takes them to my landing page for that show where they can subscribe. I used gotprint.com
20. Write a Blog
Many of us started podcasting because we hate writing. Good writing is good words, and good words attract Google. If there is a publication around your topic, see if they are looking for articles.
21. Podcast Awards
There may be awards for your industry. I just submitted my $25 fee to enter my Ask the Podcast Coach show at the podcastawards.com If you win, you have your show and website on the front page for a year. I'm not sure I would pay the $300 for some awards.
22. Get Friendly With Facebook Moderators
If you're in a group on Facebook for your topic, you might look to see who the moderator is and see if they would be a good fit for your show. They might be willing to share their interview with the group.
23. Create an Amazon Flash Briefing
If your episodes are under 10 minutes (and in reality closer to 2-3 minutes) you might consider creating a flash briefing. Some media hosts have options to create a feed with one episode (without deleting the other episodes). If you're using Libsyn.com (use the coupon code sopfree to get a free month) you can add /last1 to the end of your feed. For example, my feed is
https://schoolofpodcasting.libsyn.com/rss1
My feed for a flash briefing would be https://schoolofpodcasting.libsyn.com/last1
Keep in mind that depending on your topic, currently listening to podcasts on a Smart speaker is not a large number of people. It's free. If you have a podcast for kids or a super quick topic that people might want to start the day off you can use a blueprint from Amazon and its not too tough.
24. Mention Your Other Episodes and Link to them in the Show Notes
The goal is to get people hooked on your content. If you mention something from a previous show, be sure to link to it in the show notes (and mention that the link is there). Those that want more on a subject will go and listen.
25. Be Sure to Let Any Company You Mention Know They Were Mentioned
I've got a bump on my local Akron podcast by letting the Mayor know I played clips from his press conference. If you are saying nice things about a company they will likely share it on social.
26. Partner With a Company
This could be another podcaster (which we somewhat mentioned before) but it could be a company. Lee Silvertsein of the We Have Cancer podcast thought, "Whose message can I help amplify" and he know has a few partners he has worked with and came up with win-win situations.
Glenn Hebert provides a player for sponsors to embed on their site. A partnership could be, "We will mention you on our podcast if you put a player on your website."
27. Pay for Ads
You can advertise in some podcasts apps like Overcast, Spotify. I ended up paying $350 on Overcast.fm and got 168 subscribers (which comes to $2.08 a subscriber). There are sites like Podcorn.com and advertisecast.com where you could act as a sponsor. Now keep in mind that if someone wants $20 per 1000 downloads and they have 3200 downloads per episode that is 64 an episode (and $20 is on the low side). You can get very detailed on who your ads shows to on Facebook. Meg Brunson is a good resource. I can say that everyone who ever boosted a post said they might as well have lit their money on fire.
If there are trade magazines, you might check out how much it would cost.
Here again, for me, I would direct people to a landing page where they can sample and SUBSCRIBE.
28. Help a Reporter Out
I've been mentioned in a few newspapers after replying to stories I heard about on Help a Reporter Out. This again may be a slow burn, but it never hurts to have friends in the media.
29. Hold a "How to Listen to Podcasts" Talk at the Library
Many library have presentation rooms where people come and deliver talk. You could submit to speak there on how to listen and subscribe to podcasts (like yours).
30. Make a How to Subscribe Tutorial
This could be as simple as going on Facebook live and asking Siri to play your show. You can make screenshots, etc. We need more listeners and some people may be bashful in admitting they have no idea what a podcast is.
Mentioned in This Episode
What Was That Like? Podcast
episode 677 – All about doing interviews and being interviewed
All the episodes featuring Glenn the Geek
TeePublic – for Shirts
Sticker Mule for Stickers
Mangools – Keyword Tools
Social Warfare plugin.
wisestamp.com – Cool Email Signatures
Erik's Audience Amplification Course
Start Your Podcast Today