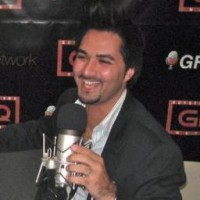 Andrew Zarian started podcasting in 2009. Today he shares his story and his insights on how he great the Guys From Queens Network from a hobby ("My first podcast was awful") into a his full time job. The interview is around 50 minutes long and in it you will learn.
You have to focus on building your audience before you can monetize it
It was almost a year and a half before he was approached by a sponsor
There is a lot of prep that goes into shows about technology
While he gets a big spike by producing a live show, for every 10 people that listen to the recording there are 3 people who caught it live.
Matching the right sponsor to the podcast is crucial for success.
He is using podtrac.com for to help him with finding sponsors.
You need to prove you are bringing traffic to your sponsor
If he had to do again, he would probably rename his network.
Ask The Podcast Coach Now in iTunes
My live show with Jim Collison that we do every Saturday at 10:30 AM EST titled "Ask the Podcast Coach," is now available in iTunes and Sitcher.
You can go to www.schoolofpodcasting.com/live and listen every week and call in 888-563-3228 and ask your questions LIVE.
Mentioned on This Podcast
Music Radio Creative : Podcast