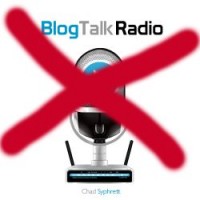 Podcasting Helped Leslie Samuel Land His Dream Job
Leslie Samuel of interactive-biology.com and becomeablogger.com shares his story how he used his podcast as a business card to get his foot in the door and become a college professor. How did he do it? By getting a meeting with the right people and showing them what he was doing on his podcast. In the end, he didn't have all the credentials that they thought they needed, but he had the passion and ability to explain biology to students and he got the job.
[et_bloom_inline optin_id=optin_1]
12 Reasons NOT to Use Blog Talk Radio – UPDATED 11/20/15
At one point Blog Talk Radio was horrible. Their audio defined "Bad Audio," their terms of use were confusing and more that I will leave here (but cross it out). Then Andy Toh from Blog Talk Radio came up to me at Podcast Movement 2014 and said, "I want to thank you for your post" (this one that trashed them). We have it posted in our lead developer's cubical and we are going to knock off each complaint one by one.
And they did.
So here is my official opinion: If you MUST have a call in number for your podcast, Blog Talk Radio is the best sounding, easiest to use the system for the call in shows. With this in mind, this means you (the hosts(s) ) are NOT using the phone (only your audience). When they launched their beta program, I was a tester. It worked great and sounded great. There are other systems out there, but they neither stream your audio or have an easy to use interface (or as easy…). Yes, Blog Talk Radio is more expensive, but there are two sides to podcasting. You have cheap and technical, or more costly and easy. The key is if you are wanting to take live call ins during your show. If that is not you, there are other services I would recommend. If you do sign up, you need to be on the beta program to sound good.
The other thing that made me give them a thumbs up for those wanting to have a live call in show. Is that Jay Soderburg told me that if (for whatever reason) you want to leave Blog Talk Radio, they WILL redirect your current feed to point at your new location.
OK, I've spoken about this a lot in the past, but its always been a little here, and a little there. This post will be used to send people who want to use Blog Talk Radio, and I can say go to this post and read it. Here are 11 reasons NOT to use Blog Talk Radio.
Note: When I originally recorded this podcast, I had eleven reasons. This podcast has brought people to me who have provided additional reasons.
1. It's too expensive.
They charge you $40 a month for a website that is sprawling with advertisements (that you may or may not get a piece of). You can host your website at services like Host Gator or Bluehost for less than $10 a month and get a dedicated media host like Libsyn.com or blubrry.com for another $15 (and get RELIABLE stats). You can get 25% off at Host Gator using the coupon code " podcastcoach ". 
2. They have bad web design.
When you go to their website advertising videos automatically launch. If you are going to someone's website while you're at work, everyone knows that Herb in cubical 13 isn't really working on the quarterly report (as the ad comes blaring out of his speakers). All audio should be put on a website that the visitor has to click on something to hear it. Put the power in THEIR hands.
3. Horrible, HORRIBLE Audio Quality
Most people when they record their audio record at CD quality. In a nutshell they take a picture of their audio 44 thousand times a second. With blog talk radio, their sample rate is 11 thousand. If we use the analogy of painting a house this means you have 75% less paint on your brush.
When you then take the audio that you capture you export it at different levels. 64 kbs is CD quality if your podcast is mono. This is why music podcasts are often 128 kbps (they have a left and right channel both at 64 kbps which makes is 128 kbps). Blog talk radio uses 32. This is 50% the quality of a CD. So you started off with 75% less "paint" on your brush, and then painted twice as fast (so very little paint gets on the house).
4. They list Themselves as the Title of Your Podcast and your user name as the author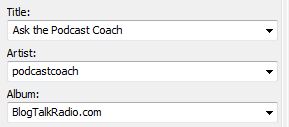 If you search for your name in iTunes, you may not come up. Why? Because where it typically lists YOUR NAME as the author, it now shows "Blog Talk Radio.com" or Blog Talk Radio Feed
5. You can't leave without losing a portion of your audience.
If you let blog talk radio submit your podcast to iTunes, there is NO WAY to move to a new service and have ALL of your subscriber automatically be updated to your new home. This means you WILL lose subscribers. They will HAVE TO resubscribe. You can beg, you can plead with your audience to follow you, but in the end you will lose at least 10% (more likely 20%) of your audience.
6. They take 65% of the advertising revenue
You can sign up to be a partner on their advertising programs. If you do this  you receive 35%. Why not start your own website, and keep 97% (assuming you have to pay paypal).
7. Part of your monthly fee goes to pay for advertising
You get X amount of impressions on their site. With this in mind, you are paying to advertise on their site. This is not optional. When you sign up, you are going to get promoted on their site (assuming people can find your banner amongst all the other banners).
8. You're paying for things you don't use
You pay for enough storage space for 2 hours of recoding a day. Most podcasters publish content on a weekly, bi-weekly basis. If they do a daily show, it's not 2 hours. I would love it if they gave you a storage allocation and you could decide what quality of audio to use, but they don't.
9. They boast large guests on their website
This has nothing to do with the platform. Michael Butler is the host of the Rock and Roll Geek show and has TONS of great musicians on his podcast.
10. Their Chat service is flaky
When I recorded an episode to test the system today I couldn't get their chat system to work.
11. The file naming convention does not signal the end user that this file is about my podcast. For example the file for this podcast is SOP346_031113 (School of Podcasting episode 346 for March 11 2013). The file I got from Blog Talk Radio is show_4523051.mp3
12. You lose control of your content. That's right, they own your stuff. However, if you pay them $249 a month to get a premium account you can own your own stuff. I didn't believe this myself until I read it in their support area (http://blogtalkradio.desk.com/customer/portal/articles/837051-are-pro-accounts-different-than-premium-or-premium-plus-packages-).
Skype Now Comes with Office 2013
If you're business uses Microsoft Office 2013 you will get 60 minutes of premium skype calls a month with your subscription.
Last 5 in 5 from Leslie Samuel
What were the last five podcasts you listened to?
Mentioned on the Show
Giant Squid Audio Lavalier Microphones