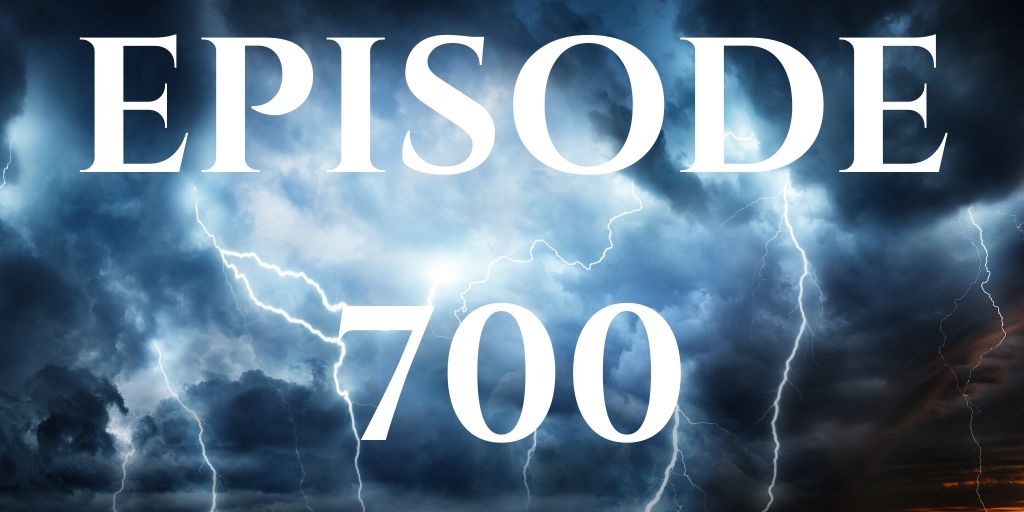 Today I take a quick second to look back at 700 episodes of the School of Podcasting. I break format on these landmark episodes and have a little fun. Today I decided to do something I've never done before – a lightning round.
A Quick Look Back
00:50 Episode 70
01:53 Dave Gets the Vapers
SPONSOR: Focusrite USB Interfaces
[02:53]
Scarlett, now in its 3rd Generation, is the world's best-selling USB interface range with over 3 million units sold worldwide
Choose from 6 different interfaces with 1, 4, or 8 microphone inputs depending on the number of hosts and guests on your show
Superior sound quality makes sure you sound your best
Works with the recording software you're already using
Works with any type of XLR microphone
Loopback on select units allows you to record Skype or Zoom calls directly into your recording software with no workarounds
New unique Air feature adds brightness and presence to your voice
Check out the interface selector tool that helps you pick the right model for you at their website.
4:38 Podcast Lightning Round
04:55 Best Microphone Samson Q2u or ATR2100
05:09 Best Podcast Media Hosting ( Libsyn.com use the coupon code sopfree to get a free month)
05:20 How many episodes should I launch with?
05:27 How do you record a phone call?
Skype Out or a Rodecaster Pro
05:47 Best way to record skype?
free mp3 skype recorder (PC) Call Recorder (Mac)
[06:01 ]Getting comfortable recording solo?
[06:13 ]Can you make money with a podcast?
[06:51] How do I get booked as a guest on other shows? (Interview Guide)
07:05 A Top mistake podcasters make?
07:15 Best use of a Zoom H1 portable Recorder
07:25 Zoom H4, H5, H6, which one? ( see Gear Guide)
07:50 Who is the Rodecaster Pro best suited for?
08:01 Best affordable software to record your podcast?
08:18 What audio plugins do you use?
08:28 Should I use Facebook ads to promote my podcast?
08:44 What do you think about Anchor.fm?
09:31 Do I need to edit my podcast?
09:39 Should I use my transcripts for my "Show notes/Blog Post?"
See otter.ai for free transcriptions
10:05 How do you avoid burnout?
Make it easy to capture and manage ideas like Evernote.
10:29 Should I use a stage name?
10:37 What link should I use when I promote my podcast?
10:49 Getting over first episode jitters
11:16 Should I do an episode zero/trailer?
11:39 Should I upgrade my equipment?  ( see Gear Guide)
11:54 What do you use for Live Streaming?
12:22 Takin Live Phone Calls with a Que?
12:45 How do I get sponsors?
12:56 Should I share one microphone with my co-host?
13:25 What should I expect to pay when hiring a podcast editor?
see Steve Stewart. The cheapest I know is Podcast Press
13:53 Should I syndicate my audio podcast to YouTube?
14:07 Should I launch a crowdfunding campaign?
14:46 Playing music in my show, is it legal?
15:14 Uploading my episodes to Apple?
15:27 Start over or rebrand my podcast?
15:54 Should I join a podcast network?
16:10 I need a web designer
Kapa99 if you're on a budget can do Artwork
16:30 Who do I hire for voice over?
Music Radio Creative or Media Voice Overs
16:40 Is starting a podcast hard?
16:47 How do I get my podcast to rank higher in Apple Podcasts?
16:59 Who do you use for your web host?
17:08 Does my podcast need a website?
17:22 Should I use Audiograms? ( see the episode and audiogram tools)
17:53 What Marketing Tools do you use?
Social Bee for Posting, Sendfox for Email
18:24 What SEO Tools do you use?
Yoast SEO Plugin, and Ubersuggest
18:33 What is your favorite app to listen to podcasts?
Overcast.fm on the iPhone, and Pocketcasts sounds great on Android
18:43 What makes a podcast good?
18:58 Should my podcast use Seasons?
19:20 Should I start a second podcast?
19:51 How do I quit a podcast?
20:10 How do I take a hiatus?
20:46 How do I un-podfade?
21:13 Should I do a solo show or do interviews?
21:35 How do I get more downloads?
22:23 How do I start a podcast and quit my job in six weeks?
Questions of the Month
I do this every year. Please record your response and include the following:
Your name and the name of your podcast
Your website where we can find your podcast
A brief synopsis of what your podcast is about (who its for, and what to expect)
What is your favorite podcast from 2019?
Why is it your favorite?
What is the website of this podcast?
I need the answers in by December 27th, 2019 so it can be heard on December 30th.
Go to www.schoolofpodcasting.com/question to participate.
Thanks to All My Loyal Listeners
These episodes always make me uncomfortable as it has a focus on me, and I always like to focus on you. Thanks to everyone who has been with me over the years.
Let Me Help You With Your Podcast
Let me help you start your podcast and grow your influence.
see www.schoolofpodcasting.com/workwithme