Mark was a US air force Pilot, Speaker, Author, and Entrepreneur, but was hesitant to start his podcast. Today we talk about what was stopping him, and how his podcast is helping to promote his Wall Pilot business.
We also hear about some discouraging statistics from Chartable about podcast cross-promote (courtesy of Evo Terra).
Spotify may be working on a "Tik Tok meets Tinder" discovery tool. I'm not sure that is going to work.
I introduce a new segment "I Heard it on a podcast" this time it was the Moe Factz show with Moe and Adam Curry
Mentioned in This Episode
Mark's Lessons From the Cockpit Show
Get Mark's Book "Tanker Pilot: Lessons from the Cockpit" on Amazon, and Audible
Question of the Month
Want some free exposure for your show, go to www.schoolofpodcasting.com/question and answer the question of the month and be sure to mention your show and website. Do it now!
Mark Hasara Straps Into His New Podcast
Mark is a super nice guy who has flown in two different wars and has stories that are the ultimate "You can't get this anyplace else." He is a keynote speaker, author, and entrepreneur. He was hesitant to start his podcast as some say it is better to be dead than look bad in the military. If you think about it pilot's don't "Wing it." You may have to improvise (like when Mark's plane caught fire) but for the most part, you don't have pilots saying, "Oh man, my bad…"
I assured Mark that I wouldn't let him sound bad. His crack at an episode he was too fast, and it was OBVIOUS he was reading. His second attempt was better, now he barely scripts out his episode, and his passion pours out the speakers.
One of the key thing to notice here is Mark didn't release those first few attempts. He has the equipment I recommend along with a camera and now has a studio that is more than ready to create great content.
A Great Business Plan
Mark's company Wall Pilot makes those big fat heads (not of sports figures but of planes) to hand on your wall. So what kind of show would attract pilots? A show like lessons from the cockpit. Mark is finding that it's just not the pilots that are listening, but the whole team that worked and maintained these planes. Mark gets to have great conversations with fellow pilots while promoting his own business. He's even had requests for special orders. If your goal is to make money with a podcast, ask yourself "What would my target listener want in a podcast?" and that is what Mark did.
Spotify's New Discovery Tool
When people talk about podcast discovery, they want an algorithm to know what they like and suggest podcasts for them. More importantly, they want that algorithm to suggest THEIR podcast for other people. Often the people who complain about podcast discovery are really complaining that their podcast hasn't been discovered.
This was  Spotted by Chris Messina and Podnews archived the video demo. From what I see it's like Tik Tok and Tinder had a baby. Your artwork and your titles will become even more important.
In the video, they finally added a button for podcasts making it easier to be found. But I'm not sure hearing a few seconds of a show is going to be enough to get me to check it out. Also, I have questions:
Who picks the clips?
Are these all shows or just Spotify exclusive?
While we've seen some markups of a new app, Spotify has a growing reputation for announcing things that never come to be.
I Can Find a Podcast About Anything
It's pretty easy to find shows, check this out. There is this site called Google.com where you can type in just about any subject and it will find information for you. As for an algorithm that suggests things I like, I have a name for that, "friends." While this doesn't happen in an app I'm using to listen to podcasts, I find that it's not too difficult to find a podcast on a subject.
Join the School of Podcasting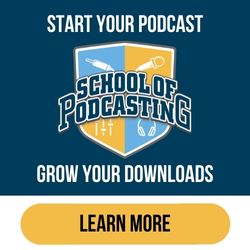 In addition to the step-by-step tutorials, group coaching, and podcasting mastermind group, I've now added show audits and unlimited time-shifted one-on-one coaching. 
When you join the School of Podcasting you can quit worrying about:
Are people going to listen to me? (Yes, cause I'll show you how to see what they want).
Am I going to sound stupid? (No, as I'll show you the magic of editing)
It will cost a million dollars (No, I'll have you sounding like a million bucks without spending a million bucks).
I don't anything about this technology (You said the same thing about driving).
Get access to:
Step-by-step tutorials, live group coaching, a mastermind group filled with brilliant podcasting minds,  and the ability to schedule as many one-on-one quick-fix calls as you like at no extra charge.
Join worry-free with a 30-day money-back guarantee
Go to www.schoolofpodcasting.com/start
Where I Will Be:
Utah Podcast Coalition April 21st
Podfest Multimedia Expo  May 26-29 Orlando