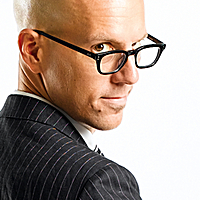 Today we interview George Hrab as he looks back of seven years of podcasting as he started out wanting to make his friends laugh, and ended up touring the world.
Because of my Podcast [1:26]
James Neuman of the Human Perfofmance Tools (www.humanperformancetools.com )podcast was asked to do a presentation about using podcasting at a conference for his industry. He was asked by the head of the conference to do this presentation. It turns out that many people at this conference were his listeners. The presentation was about his podcast and his blog and how he is using it in his industry. This is one of the advantages of being first in your industry to start a podcast. James is stoked that when you put in Human Performance Tools he ranks very high in Google. The cool thing James only has six episode out.
George Hrab Takes Advantage of Every Opportunity [9:00]
George Hrab launched his Geologic Podcast seven years ago because his friend Slau told him he really needed to launch one. He thought he might make his friend, or his Dad laugh a little. George has been on the show in the past talking about his "module" style of podcasting. George is one of them most creative people I know. I love his songs for the Periodic table. He is a full time musician, and has used podcasting to get his foot in the door (and then kick the door down by being "undeniable"). From this interview we learn that:
1. George hasn't missed a weekly show (hardly ever).
2. He has been on five continents
3. Met most of his heroes
4. His album releases have been more successful than before.
5. Your talent and skills won't get you work, but they will allow you to keep the jobs you get. You need to get in the right circles of people who can get you work
6. Dragoncon lead to the playing music between speakers at the JREF Convention. That lead to him being he MC of the event.
7. Each opportunity came from someone telling other people  about George (good ol' word of mouth).
8. George has EXTREMELY loyal fans who produce an episode every year to honor George.
9. George says his true talent is editing. To listen through the eyes of his listeners and ask, "is this working?, is this boring?". He doesn't want to just "Mail it in" even though he has the skills to do that.
10. How do you succeed at podcasting? Do it. Pick a schedule, and keep doing it on that schedule. George sees himself as a writer. He needs to leave time to create great content.
11. Realize that all episodes won't be great. Don't quit. It will get better. Don't quit. He's been doing this for seven years.
12. Imagine your audience sitting in one room. 600 listeners would be a big room.
13. He starts every morning answering emails.
14. Most of Wednesday (6-10 hours) is devoted to his 45- 50 minute podcast.
15. He got his highest music sales by giving away his entire album for free.
16. When he ran a contest that the winner was in Norway, his audience planned a tour throughout Europe (and later Australia).
17. George has added a "Premium" club. Don't think you'll get 25%. A good number is 1% of your audience. He makes sure that members get value.
18. When he promotes his premium membership, he uses different commercials to make sure to not bore the audience.
19. His audience was HAPPY that he gave them a chance to support him by giving him cash.
20 Not everything has worked. He had a third party contact him about doing a "best of CD". It didn't work. It didn't hurt his brand. So it was a nice experiment that didn't work.
21. His only thoughts on regrets was revealing extremely intimate information about his life, but on the other hand those fans that stuck through that have a stronger bond (i.e. George spoke openly about going through a break up with a then girl friend).
George started out thinking it might be fun to make his friend laugh. He though he would do 50 episodes and see what happens. He didn't have much of a budget (he actually tapes his phone to a mic when his Mom calls). Now he's seen the world, and continues to take advantage of this opportunities that pop up.
Next Week We Will Be Doing More Q&A
I realize last week we had an interview with Grammar Girl, and now this week we had George. Next week I will pause the interviews from New Media Expo, and get back to answering your podcasting questions. If you want more podcast Q& A check out Ask the Podcast Coach in iTunes