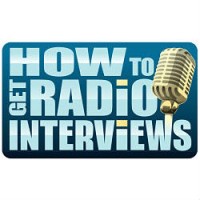 When I talk to people and ask them how do they discover podcasts, many of them say "I hear  about them on another podcast." This is great as other podcasters have audiences who are already listening to podcasts. But what about growing a NEW audience. What about getting on the radio?
How to Get on Radio Audio Series
I recently listened to a copy of How to Get on Radio from Radio Guest List. This has a ton of tips, and resources that you can use to get on the radio, and get some publicity. It's currently $59 but you get four hours of insights from Scott Fox who shares his years of experience as a self published author. The great thing about Scott is he has experience on both sides of the microphone (which is UBER helpful).  The four part series consists of
1. The Who, What, and Why of Radio and Podcast Interviews, including How to Find Shows Interested in You
2. How to Pitch Radio Shows for Free Interviews
3. How to be a Good Radio Guest, How to Get Booked Again, and Top Mistakes to Avoid
4. Your Radio Publicity Questions Answered

You can pick up these audio files at howtogetonradio.com
Radio Shows Lists Looking for Guests
I know (and use) two lists (both free) that put out an email with shows looking for experts (that's you). I've been quoted in newspapers, guested on radio shows, guested on podcasts, all by using these two free resources.
Help a Reporter Out
From The New York Times, to ABC News, to Huffington Post.com and everyone in between, nearly 30,000 members of the media have quoted HARO sources in their stories. Everyone's an expert at something. Sharing your expertise may land you that big media opportunity you've been looking for. You get PR opportunities delivered to your inbox, three times a day. Check it out
Radio Guest List
The #1 Free radio guest, podcast, talk radio, Internet radio, satellite radio and TV talk show guest expert publicity interview booking service (per their website).  This site has articles on getting on radio and you can sign up for the list to be notified about shows needing guests. You can sign up to be on their list here.
Other Free Resources
Publicty Hound
The #1 Free Publicity site on the Internet. Joan has a pitch template that you can use to pitch yourself as a guest. Her newsletter is legendary. You can see a sample and sign up at http://publicityhound.com/tips/ 
Joan Stweart has over 2000 posts on publicity. You can see some of the posts about radio here.
Vocus Free Resources
I'm new to vocus, but when I saw a link to them on the Help a Reporter Out website I went to check it out. They have TONS of free guides, webinars for replay with some TOP people, free publicity tips and more. Check it out
How to Pitch Yourself
How to Be a Guest on the Radio pdf from Authority Publishing