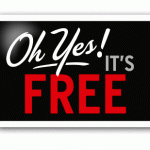 Money is tight. I don't have the budget for it. I can't afford it. I hear this all the time from people who want to start a podcast. These are the people who are watching movies on Netflix. sipping their Starbucks, while their children play the new video game they spent money on.
Can you podcast for free? Yes. Should you? No. Actually let me rephrase that. HELL NO. But if you must, you could get a wordpress.com account as your free podcast hosting and use archive.org to for a free podcast media host. Then you can use feedburner to enter your itunes information. You can make your album art using the free GIMP software, and then while you're at it buy a gun and shoot yourself in the foot. Here is what you get.
1. A really slow website. I've had issues helping people move off of wordpress.com and I'm surprised how slow it is (when you host WordPress on your own site its much faster but it costs $7 a month). You also get imacheapy.wordpress.com as a website name. you'll be saying this in your podcast so the shorter the better. Your choice to not pay $12 a year has now made your domain name LONGER.
2. You have audio that will CRAWL when people try to download it. After all people have TONS of extra time to wait for your media to download while their car sits in the driveway waiting to go to work (when you can get media hosting for around $12 a month).
3. You will never be featured in iTunes as your album art will look like someone designed it in Microsoft Paint. (when you can get album art for about $50 bucks). See www.schoolofpodcasting.com/skank
4. You've blown your first impression.
Maybe you sign up for a free account to use Blog Talk Radio. Now you have a website that is OVERFLOWING with ads, and your audio sounds like it was recorded with someone frying bacon under water. Good luck with that.
My advice is to stay away from free. There are typically two ways to pay. Either you pay with money (about $7 a month for hosting), or you pay with time (as free sites typically have no support. I know money is tight, but you have to think of this from a potential customer / client. If I was buying a car, I wouldn't buy one from someone who is selling out of a tent and could move in the blink of an eye. As a musician, I always cringe at people who make their own business cards for their band (by that I mean by the "business card paper at office Max). The card is flimsy, and looks and feels cheap. It screams, "Look I can't afford the .05 for a business card."
Here are some other reasons to avoid free.
Mevio
Podango
mypodcast.com
wildvoice.com
All charged nothing for their service. All went out of business. It appears paying for things with a smile is not a got business strategy. They could afford to pay people to support their product. They couldn't pay people to communicate with their customers. They went out of business. It takes money to run a business. It takes money to start and run a podcast. I was on Mevio. I made money with them. However, I saw the writing on the wall and did nothing. When they dropped all their audio podcasts, I was forced to move all my audio. I didn't pay in money. Now I'm paying in time. I could go on and one with examples of this. You will pay with either time or money.
Here is something else to consider. I haven't bowled in years. If my friends called and said, "Let's go bowling" I wouldn't blink. I googled my old bowling alley. It turns out bowling is now 3.99 a game, and 2.50 for shoes (http://www.eastgatelanes.com/5.asp). That means if we bowl four games (a typical night) it's going to run me $18.46 for one night. If I'm on a league that's 10 weeks at 18.46 that's $180.
If I want a website it's $12ish for a domain name, and $7 for hosting. That's $8 a month. I went through McDonald's and got a "Value meal" the other days and that was almost $6. If I each month eat at home one night (instead of McD's or Starbucks), and don't hit the vending machine at work I can afford a website.
I have a friend who wanted a cool theme. I suggested thesis ($90), he went with a less expensive one. The theme is causing issues. It's messing up his RSS feed. The author of the theme is out sick, and he has restrictions on his forum so I can't see the answers. You can pay with money, or you can pay with time. What's more stressful parting with money, or pulling out your hair because something that should work isn't?
Again, stay away from free. Anything worth doing, is worth doing well.
OK, how much does it cost to start a podcast?
Domain: $1 a month
Hosting: $7 a month
Media Hosting: $15 a month
Total $23 a month.
You can purchase the Behringer USB Podcasting Kit for $99 and get started. This is not my favorite way, but I've used an evaluation unit and it wasn't horrible. You can always buy a better microphone later. This works if you're flying solo. If you have more than one person in the room, it's going to cost more. Keep in mind these are ONE TIME fees.
If someone is podcasting for free, they should be doing it because someone forced them.
How to Afford to Podcast
First of all this month I made $26.40 (so far) this month. That means I spent $23 a month and made 26. I'm up three bucks (I made $80 with another affiliate program, and $30 with another one – I'm up about $115). This won't happen over night. You will need an audience, and a relationship with that audience. I'm telling you this because I like to shoot things straight. You will lose money (more than likely) when you start. Over time as your audience grows, that can change. But lets look at things we spend out money on that we could probably do away with.
Ask Your Doctor if Getting Off Your Butt is Good For You
Instead of driving to the store for milk, or to work, walk or bike.
Let's look at fast numbers. The shortest reasonable commute is 10 miles (16 km) each way. (Anything shorter is bad for your car, since it won't heat up all the way and boil off the water that condenses from the exhaust in your cold engine. This water dilutes your oil and rusts your exhaust. Engine wear is far, far greater in the few miles during engine warm up, too.)
10 miles each way is 20 miles a day. There are 250 work days a year, or 5,000 miles a year for commuting. At 50¢ a mile, the latest averages for running a car, that's $2,500 a year.
Buy Used and Old
I just bought a really nice GPS system for my car. It costs half of what the latest greatest GPS costs. How? It's last years model. You don't need the biggest baddest fastest stuff. You can get by with a Sure SM58 $99, and a small Behringer Mixer ($37, $49 if you have two hosts). You can use Audacity to start with (I recommend Sony Music Studio for $44).
Don't Eat Out
We were all tired. We didn't want to cook, and we were in a hurry. We went to Olive Garden. We waited in line for a table. We waited for our waitress. We waited for our drinks, then for our order to be taken. She wasn't a horrible waitress, but I had stayed home and cooked spaghetti it would be close to being on the table at this point. Am I saving time? I need to quit fooling myself. When the bill came I saw where I wasn't saving any money either. I think we've conned ourselves. When the bill came I saw where I could've stayed home, had my family help me cook the meal, and saved about $30 and had food left over.  I do the same thing in the morning. I wake up late, and think "I don't have time to make breakfast (which is cereal – I know…). Instead I drive through and pay $4.79 (which would buy a box and a half of cereal and feed me for a week) and I timed it. It took 7 minutes to wait in line, get my food, and drive off. In seven minutes I could've poured and eaten two bowls of cereal. We again are fooling ourselves. Also, we're lazy. Yeah, I said it. Bottom line if I do this once a week that's $4.79 X 4 = $19.16 and all I need to do to pull this off is go to bed earlier (Free).
Quit Buying on Credit
I once purchased an elliptical machine on a Dicks Sporting Goods credit card as I had 6 months same as cash. Six months came, and I didn't pay off the balance. I'm now paying 30% interest on that card. This should be illegal, but there is no law against being stupid, and that's what I was. If you want to get out of debt, check out the Total Money Makeover book by Dave Ramsey.
Use Coupons
According to ilovecouponmonth.com  Every hour spent couponing in 2011 is worth an estimated $100 (Really? Is there a coupon podcast?). People saved $3.7 billion with coupons in 2010.
Start Viewing Things as Podcast Killers
I love the subway restaurant commercials where people go into hamburger joints and order a "Big behind with a helping of flabby arms." However, when you are ordering junk food that is what you are basically doing. With this in mind, the next time you spend money on something you want instead of something you need remind yourself that this specific purchase cost me my web hosting, or 20% of a new microphone.
See Where Your Money Is Going – For Free
One service that I love is Mint.com You can sign up for free (it's from the people who make Quicken software) and you enter in your bank information (they use the same security your bank does, I was nervous too at first, but after I read all the details – they've gone above and beyond to keep your information save and secure) and as you spend money it automatically tracks what you spend it on. In some cases (like Wal-Mart) you might have to go in and fine tune it (as my walmart sells groceries).  In the end it's pretty cool. You can set up a budget (oh wait I mean a "Spending plan") and be alerted when you go over it. This is really cool for married people as you can tie multiple accounts into your mint account so everyone will see everything…. For more information go to mint.com and sign up today. The good news is you will see where all your money is going, the bad news is you will see where all your money is going. The only time you need to enter transactions is if you use cash (Cash? What's that?). By using the link, you help support the show.