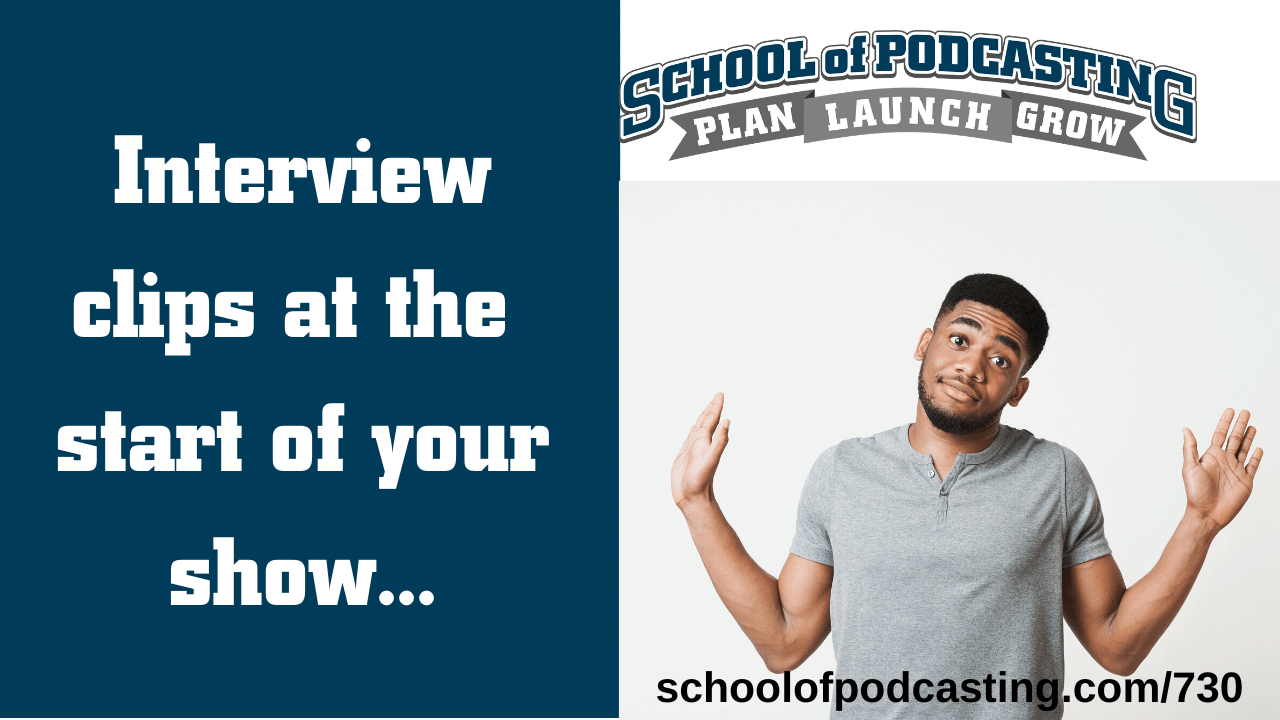 I hear so many podcasts that do interviews and they start their podcast by pulling a clip from the interview. Today we talk about why this may not be the best strategy.
The interview snippet should build anticipation
Piques the curiosity and makes them want to know more
Some people pull clips that make people go WHAT WAS THAT?
Many times these clips are long (I wouldn't make then any long than 10-15 seconds if not shorter) and just leave the listener confused.
ROLL THE CLIP
If you think about it movies use trailers to motivate people to come and see the movie. They also send the starts on talks shows who often have a clip of the show. When the hosts ask, "Does this need set up?" the answer is almost always yes. Some back story is needed to have the clip make sense. In some cases podcasters are creating a clip, placing it at the very beginning of the episode and there is no "setup" and the clip leads to confusion.
Feedback is the Opportunity to Improve
I'm working on launching a new show that will be another test, but also I want to interview other people who have developed HUGE communities. I created a trailer, and ask from friends for their feedback. This is what I heard:
One clip had a weird sentence where the guest kind of switch thoughts mid-sentence
The music was pretty mellow – and wasn't the typical Dave Jackson vibe.
With just that small amount of feedback, I was to boost the engagement, and anticipation of the new podcast. I didn't get an attitude. I stayed open to suggestions. As the suggestions didn't have me moving the show into a completely different focus, I played around with the project. In doing so I had one "mistake" that I really loved (and kept in the trailer, and then implement the same "mistake" later in the trailer).
Your podcast is yours to mold and form into whatever you want. It all starts with knowing what your audience wants. In this case, I am my target audience.
SPONSOR: Start Your Podcast Worry-Free at the School of Podcasting
You're worried you'll sound stupid. You won't as I show you how to know exactly what your audience wants. You're worried about the technology? Don't be as I have step by step tutorials to walk you through the whole podcasting process. Need some help along the way? I do live group coaching multiple times per month, you have priority email support, and a private Facebook group filled with brilliant podcasting minds. You also have a 30-day money-back guarantee so if you're not happy you can get your money back.
Go to www.schoolofpodcasting.com/start
Mentioned In This Episode
Start your podcast worry-free at www.schoolofpodcasting.com/start
New Media Show With Adam Curry
Kim from Toastmasters101.net
Kim from thepharmacistsvoice.com 
Podcast Rodeo Show (get the beginning of your show reviewed).
Podcast Review Show – Full Review
Grow Your Community – Coming Soon