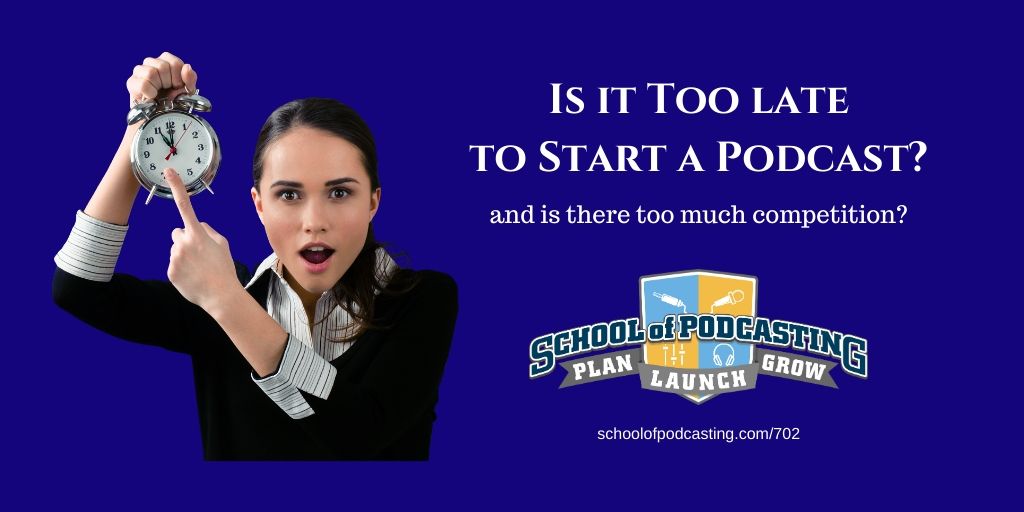 Time Table
01:39 Because of My Podcast
06:33 Focusrite Scarlet USB Interfaces
08:35 Is it Too Late To Start a Podcast?
24:16 Great Podcasts Lead to Binge Listening
26:08 Question of the Month
28:09 Hindenburg Chapters Trick
30:45 The Importance of File Management
35:51 Podcastingevents.net
38:59 Bloopers
Because of My Podcast: Rick Sizemore
Rick got to talk to some top people in the government and then got to work with them and the members of the blue many group to create a special episode for his VR Workforce Studio podcast.
Check out his podcast at https://vrworkforcestudio.com/
Hear Rick on the Podcast Review Show
SPONSOR: Focusrite Scarlet USB Interfaces
06:33
I got to play with a Focusrite 2i2 and if you are looking for an easy to get your microphone into your computer (and have the option to have a co-host as well) without having to look at a TON of knobs, check out the Focusrite 2i2. As I'm on a PC, I downloaded a driver, plugged in the unit, and was ready to record. If you're on a Mac computer, you just plug it in.
If you want a backup copy of your recording, plug a cable into the monitor out and send the signal to your portable recorder.
It's built like a tank and is a lovely shade of red.
Check out the interface selector tool that helps you pick the right model for you at their website.
Podcast Industry Stats
08:35
When you hear the numbers it sounds like there are soooo many podcasts, and it may deter you from starting yours. You may be asking, "Is it too late to start a podcast?" Here are some things to consider.
There is a new page from Daniel J Lewis that displays the latest podcasting stats on the podcast industry. As of 12/22 here are some stats:
811,942 valid feeds
338,772 active podcasts (at least one episode in the last 90 days)
229, 590 podcasts with 10 or more episodes
178,867 active podcasts with 10 or more episodes.
There are 31 million YouTube Channels (with projections of growing 25% every year). They upload 500 minutes of video every minute.
There are 500 million blogs out of 1.7 billion websites.
There are 1761 Television channels and yet 27 stations were launched in the US last year.
There were 840,000 books published every year in the US alone (and that was in 2013)
If we look at active podcasts with 10 or more episodes that means.
That means for every 2795 blogs there is one podcast.
That means for every 173 YouTube Channels there is one podcast
Here is a thought for all you blog writers. For every 2795 blogs there is one podcast.
I live in Akron, Ohio and the football team is the Cleveland browns which have a stadium that holds 67,895
If you made an announcement to have all the podcasters in the stadium go to the 50-yard line, you would have 24 people.
Chances of Making It
Stating in Major League Baseball 1.2%
Starting the National Football League 1.6%
Starting in the National Hockey League 6.9%
Chance of getting your music released on a major record label .2%
This Month's Question
26:08
I do this every year. Please record your response and include the following:
Your name and the name of your podcast
Your website where we can find your podcast
A brief synopsis of what your podcast is about (who its for, and what to expect)
What is your favorite podcast from 2019?
Why is it your favorite?
What is the website of this podcast?
I need the answers in by December 27th, 2019 so it can be heard on December 30th.
Got to www.schoolofpodcasting.com/question
Hindenburg Chapters/Show Notes Hack
28:09
In Hindenburg Journalist, you can add chapters. Chapters make it easy for the listener to jump to your next segment. You can not only add chapters but right-click at the top of the chapters list and copy the list as text and paste into your show notes for a list of time codes. Some apps will see these time codes and jump to that time when clicked on. I use to do this manually. Now I don't.
File Management Can Speed up Podcast Production
30:45
When I was a corporate trainer teaching Microsoft Office one skill that was missing in many of my students was basic file management. When you have to hunt for the same files over and over, you waste time. Here is my folder structure:
The main folder for the name of the podcast ( School of Podcasting in this case)
Inside the main folder create the following folders:

Episodes*
Production – With all of the files you use in every episode (background music, artwork, etc).
Finished – Your finished episodes.
*The episodes folder has all the files you used to create that episode.
Mentioned in This Episode
Organizing your Podcast Course
School of Podcasting Membership
Ready To Start Your Podcast?
Go to www.schoolofpodcasting.com/workwithme and choose the option that suits your schedule best.