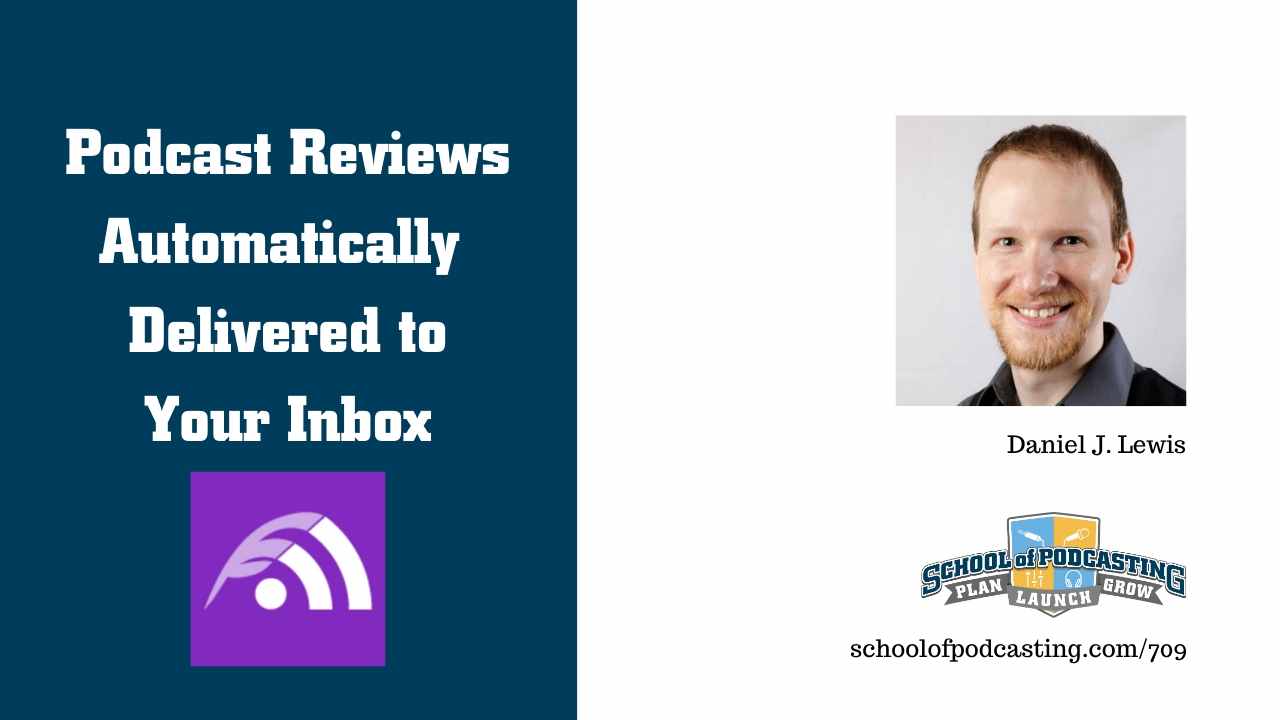 Welcome to episode 709 of the School of Podcasting.
When You Deliver Value Your Audience Downloads Your Back Episodes
01:09
I have said this many times on this show, and now when I hear it from someone else, I want to bring it on the show. Natalie Echtahl just celebrated six years in podcasting and in the episode where she looked back upon the six years she mentioned how someone had found her show and listened to TWENTY EPISODES. This is approximately TWENTY HOURS of content. That is a LONG TIME to spend with someone. This is how you develop a relationship with your audience. Check out Natalie at www.bizchix.com
Join the School of Podcasting
04:45
In episode two of the Pharmacists voice, Kim Newlove (a member of the school of podcasting) said this about her journey for a podcast coach:
It took me a couple of months of shopping but I found a podcasting coach. I looked at YouTube. I listened to some podcasts about podcasting. After consuming content from Dave Jackson's school of podcasting, I knew Dave was my guy.
I scheduled a zoom chat with Dave in June 2019. To learn how to get started. Our conversation led me to his school of podcasting courses, which took me about a month to complete in October of 2019. I built the podcast in November and launched it in December.
I would recommend the School of podcasting for many reasons. Dave is experienced. He's been podcasting since 2005. And I love his podcast titled The School of podcasting. He also teaches the way I like to learn. The School of podcasting has structured courses that are broken down into bite-sized chunks. Dave is a great teacher and offers "office hours" for support. I really like the private Facebook group for students too. We support and learn from one another. The School of podcasting was a good fit for me. It worked too here I am on episode two.  Thanks, Dave.
Kim Newlove – The Pharmacists Voice
Keep Track of Reviews from Multiple Apps and 155 Different Countries
06:55
Today we talk with podcast consultant (and friend) Daniel J Lewis of the Audacity to Podcast, Podcasters Roundtable, Podcaster Society, and My Podcast Reviews (which is what we will be talking about today). My podcast reviews allow you to track reviews of your shows (and your competitors….) from all 155 countries and have the reviews emailed to you automatically.

It used to be that you could switch between stores in iTunes. There was a little picture of the flag in the bottom right-hand corner of the software. When I asked Daniel about this he said he timed himself once going from store to store, country to country, and searching for your show and then looking at the reviews. His best time was twenty minutes.
With the new Apple Podcasts on the mac (and no version of Apple iTunes) currently, there is no way to switch between countries on a Mac. This means getting your reviews from other countries is impossible using Apple podcasts on a mac. This is where My Podcast Reviews comes into play. Not only do you get access to all of your reviews, but you get them from all the countries without having to spend the HOURS it would take to manually retrieve them. With the removal of Apple iTunes on the Mac, and Apple Podcasts on a mac not having the capabilities to get reviews, this tool becomes essential.
My Podcast Reviews:
Retrieves your reviews from all 155 different countries
Retrieves reviews from Apple, Stitcher (and soon Podcatcher)
Plans start at $5 a month and go up depending on how many shows you have.
Receive your review in your inbox in a format that makes it easy to share on social media, or even make t-shirts
For more information see www.schoolofpodcasting.com/mpr (affiliate link).
Quick Video Demo of My Podcast Reviews
Where I Will Be
February 12-15th
Podcast Movement Evolutions
Los Angelas, Ca
February 21-22
Spark Christian Podcast Conference
Houston, TX
March 6-8
Podfest Multimedia Expo
Orlando, Fl
June 12-13
Utah Podcast Summit
Sandy, Utah
New Overcast Feature Enhances Playback
30:42
Overcast is my favorite app for listening to podcasts. They recently added the ability to go into each podcast show and set a time to start the podcast. For example, Joe Rogan has about 5-7 minutes of advertising in his show. You could have all of Joe's episodes start at the 7:15 mark. You can also have the app skip to the next episode at the end. So if someone spends the last three minutes of their show recapping commercials, you can set the app to skip the last three minutes.  You can find out more at www.overcast.fm