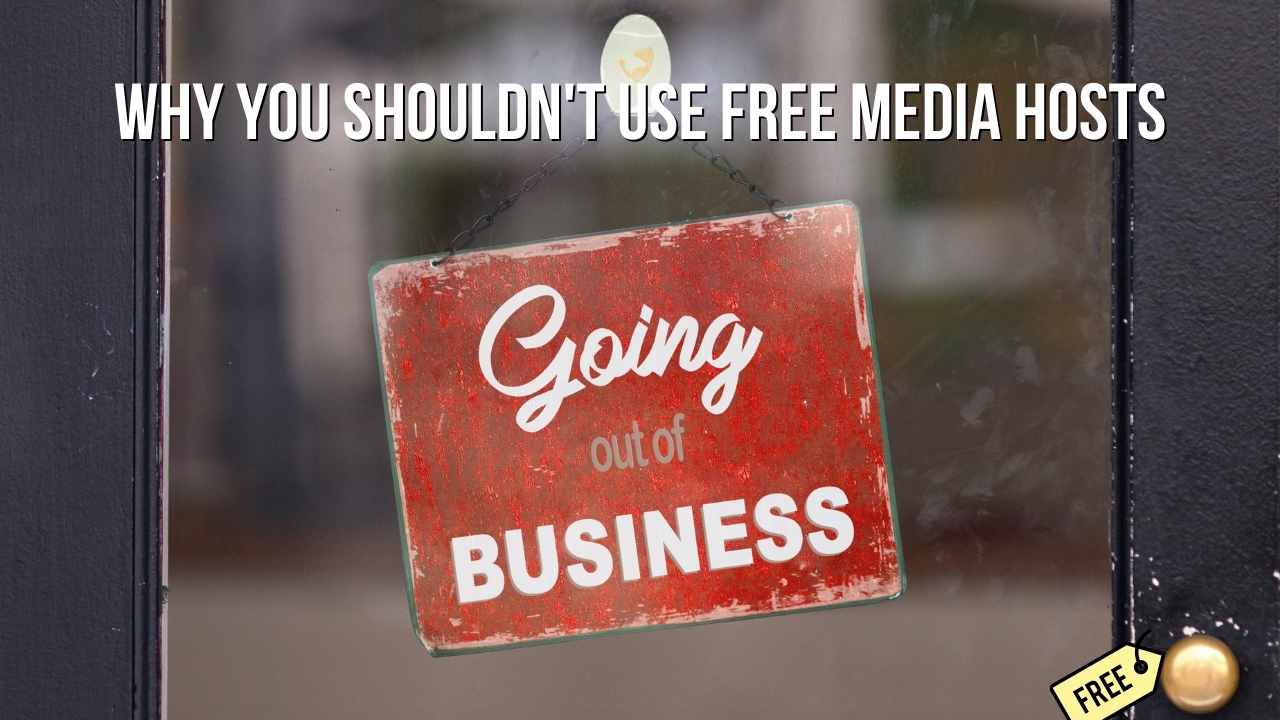 Should I Use a Free Media Host?
My quick reaction in this blog post is no. Here is a list of free media hosts that have gone out of business.
– Podshow/Mevio 8/2005 – 4/2014 (116 months – 38.8 million dollars spent)
– Podango 9/2006 – 12/2008 (27 Months)
– wildvoice.com 7/2006 – 7/2009 (36 months)
– mypodcasts.com 2007 – 2011 (estimated 48 months)
– Audiometric.io 11/ 2012 – 8/2014 (21 months before being purchased by panoply and taken off the market)
– Opinion Podcasting 11/2015-10/2017  (23 months)
– Zcat 1/2016 – 1/2019 (36 months)
– Whooshkaa 6/2016-5/2021 (53 months – removed their free service)
– Red Circle.com 4/2019 –
– Anchor – Purchased by Spotify (who have also purchased media hosts that charge…)
The Reason Free Media Hosts Don't Work
The free business model works like this.
You get free media hosting, and the free host offers to help you make money by providing advertisers.
The hosting company will take a portion of the ad sales to pay for the bandwidth and storage you have been using.

No Advertisers
Advertisers don't want to attach their brand to just any podcast, so there aren't any.
As many new podcasters want to "test the waters" and have only just started they have no significant audience yet. This means the host must combine small shows together to get enough downloads to attract sponsors. However, now there are more shows to vet to make sure they are "Brand Safe" and the amount of paperwork to get all of these smaller shows under contract, and get paid is enormous.
The Successful Shows Leave
If a show does get enough downloads for a sponsor (5000 per episode) instead of staying with the free media host, they leave (with their audience ), work directly with the sponsor, and keep all the money for themselves. So the money that was supposed to sustain the free media host leaves, and typically most of them go out of business or have to keep getting funding from a bank to stay in business.
and that's why I don't like free media hosting.
Hobbies Are Not Free
Bowling in Akron, Ohio (where I live) is $3.25 a game (per person) or $20/hour
Putt-putt golf is $7.25 / game
An Xbox is $300+
Even walking requires shoes. Have you priced walking shoes?
So many hosts you are looking at an hour of bowling, or a couple of games of putt-putt (or 25% of a shoe).
Start your podcast. You'll either end up with a great podcast, or a great story about the time you started a podcast.
DISCLOSURE: I work for a media host (Libsyn.com) which does charge for its service (and has been around since 2004). However, the opinions in this article are not based on my six years at Libsyn, but on my 17 years in podcasting. I've seen a few companies come and go (all trying the same business model.).
Not sure what host to use? Take my free course to help you compare the different podcast companies.