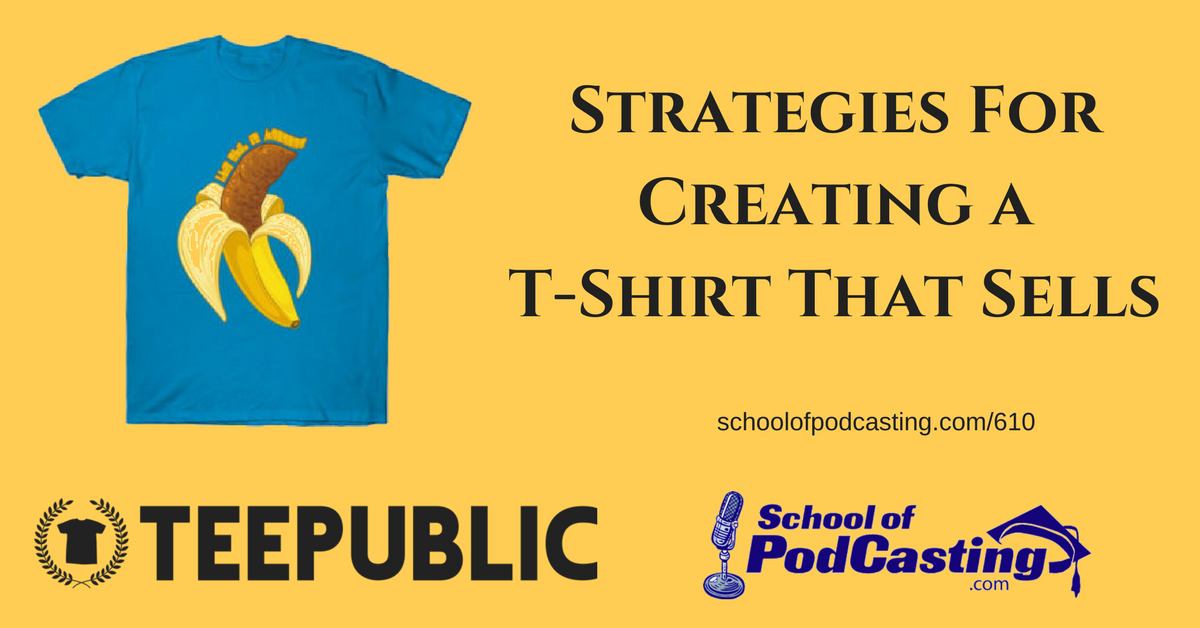 Today we have insights from Diana McCallum from the Talk From Super Heroes show, Lou Mongello from WDW Radio and Gordo from Those Conspiracy Guys on how they are designing T-Shirts that actually sell. Neil then shares some insights into what he's doing to create a show that allows him to do podcasting full time, and how insights into his Patreon Account.
Jim Harold from the Paranormal Podcast has a "Just a Podcaster" T-shirt on Amazon
Mark from the Resourceful Designer podcast has quite a few cool shirts for sale on Amazon
I created a store and a t-shirt in about 10 minutes at https://www.teepublic.com/stores/podcast-clothes
You can hire a designer at the site
SPONSOR: Podcast Movement
Podcast Movement is the world's largest gathering of new and veteran podcasters, or anyone looking to start their own podcast the right way
– Join over 2,000 podcasters from around the world in Philadelphia this July 23 through 26 for three days of workshops, panels, parties and more
– The conference offers over 100 sessions on topics ranging from the technical aspects of setting up your equipment and the audio production to marketing and monetizing your current or future show.
– The expo hall features over 60 podcast service and equipment providers, so whether you're in the market for a microphone, or trying to figure out where to host your podcast, anyone who matters will be on site to help you out
It's July 23 – 26th in Philadelphia PA.
Use the code SOP when you sign up at www.podcastmovement.com and get $50 off any level of registration
Access and Exclusivity: The Power of Patreon
Neil Rochford explains how he is working with his audience using Patreon to go deeper with his Super Fans. This includes:
Live video chats
Extra content
Early content
Behind the scenes "What is happening in my life" content.
Patreon has the ability to have an RSS feed for each person (so if they leave they lose access)
Butt Stuff
Neil is working on a trip to the US via a Crowdfunding Goal
He wants to come to the US to interview the people instead of using Google.
The goal is to film the trip and turn the trip into a dozen documentary type segments
See https://www.gofundme.com/tcgtv
Information on TeePublic
TeePublic offers a 31% commission to our partners for sales of their own merch. For example: For a $20 t-shirt you would earn $6.20 back. Earn 11% commission for sales you refer for existing TeePublic designs. These are the most competitive commission rates around.
No need to have your own designs — You have access to the entire TeePublic design catalog and can curate your own branded storefront with existing designs on TeePublic. This opportunity is completely unique to TeePublic; no other t-shirt provider offers this feature.
Increase fan engagement — Your fans and followers want to know what you think is awesome! Show your community cool new designs that you think they may enjoy.
Here is what you can sell in your store: We have: shirts, stickers, phone cases, art prints, kids' clothing, tank tops, sweatshirts, onesies, posters, mugs, laptop sleeves, notebooks, pillows, totes, tapestries, and others.
For more information go to www.schoolofpodcasting.com/teepublic
Where I'm Heading
I'll be at Podfecta in Nashville on April 20th
Nashville Craft Content Event on April 21st
Ready To Start Podcasting?
Work with me, I have multiple options to support many budgets