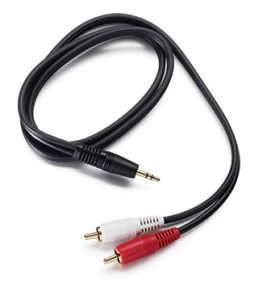 There are many podcast consultants like myself we give advice for want-to-be podcasters. Most of the time there are answers that are fairly universal, but I feel there are times when the answers differ greatly. One such answer is recording a skype call. The answer I often hear is to set up a "mix minus" set up on your mixer. While this works, it (in my opinion) makes the process much harder than it has to be.
Why do people use this method? Often this is done by people who are recording their podcast "live" (meaning they mix in their intro/outro music and sound effects as they record their voice). The issue is they want the person they have called on Skype to hear the music and sound effects as well. This problem is solved by having any sound effects saved to another device (say an mp3 player, or burned to a CD) and those devices are run into the mixer. You have an instant volume control of the music and sounds with whatever device you are using.
My method involves taking a cord and plugging it into your headphone jack. Then plug the other end into a device you are using the record. This could be another computer or a portable recorder such as the Zoom H6, H2, or the new Zoom H1. However, with the cord plugged into your headphone jack, you can't hear the person you have called. The solution? Since the sound is going into the recording device, plug the headphones into the recording device.
All you have to do now is check the recording levels, and whatever you hear in your headphones – is what you are recording. You can adjust the volume of the person you called (for example if you called someone on an actual phone), in skype (see video to see how to do this).
I would recommend that if you are doing an interview, forget about recording live and focus on the interview. Capture it, and then later add your intro and outro. I will add my two cents about podcasting live (including a live chat) in the future as well.
For today, I wanted to let you know there is an EASY way to record a skype call that doesn't require diagrams, or an extra set of hands to pull off.
If you do not have another recording device, I've used free skype podcast recorder software in the past. It works, but I never trust it 100% (I trust it 98%).
If you'd like to start a podcast, and want to learn how the easy way to start a podcast, I encourage you to join the school of podcasting today. I look forward to working with you.