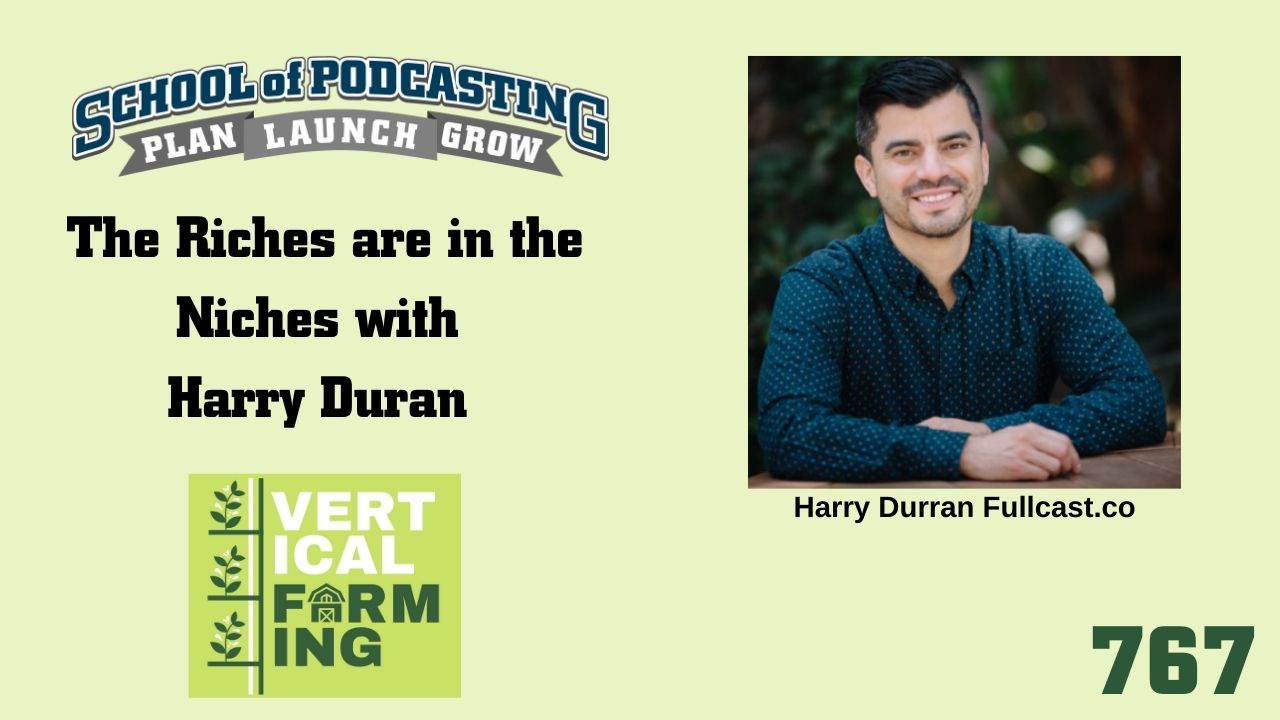 Quick Notes:
Apple Update:
Apple is changing the wording in their app from "Subscribe" to "Follow" so stop telling your audience to subscribe (and if you do, mention that it's free) and instead tell them to follow you. The new version of the app will be out in a few weeks.
I was listening to the Sounds Profitable podcast and heard where my friend Harry Duran from Podcast Junkies, and Fullcast, hard obtained a sponsor for a show that had not been published. I had to hear how he did it.
Question of the Month Deadline is This Friday
What one thing do you wish you knew when you started your podcast? You can leave your answer at www.schoolofpodcasting.com/question (be sure to mention your show and your website slowly). 
Win Rewards for Sharing the Show
Speaking of followers/subscribers if you share the show you can win rewards when your friends subscribe/follow. See
www.schoolofpodcasting.com/share
Combine Niche, Experience, Proof of Concept: Harry's Recipe For Success
First Came Podcast Junkies
Harry started podcast junkies in 2014. He knew in 2015 he was looking to launch a full-service podcast production agency. He needed to build relationships with people who would have a budget to start a podcast and need his services. He hired a coach that provided two things:
Access to building relationships with entrepreneurs
Insights into how to run his agency.
Proof of Concept
Harry was attending a course/mastermind/intensive when his first client saw the idea of Fullcast on Harry's whiteboard. He said to Harry, "When that is open, I'm interested."
This is the kind of feedback you want when launching either a podcast or a product. If it's a podcast you want someone to ask, "Is that available NOW to listen to?" If you're launching a product or service you know you're on to something when someone asks, "Can I buy that now?"
Over Deliver
Harry listened to what his client wanted and just kept saying, "Yes, we can do that." As Harry was a one-man army producing Podcast Junkies he had a handle on doing everything. He also knew that if this one client wanted a feature set, other clients would want it as well.
The Vertical Farming Rabbit Hole
Harry read a book called Abundance: The Future Is Better Than You Think by Peter H. Diamandis which mentioned vertical farming which means you control the environment (lights, climate, etc) to allow you to grow produce anywhere with no pesticides as there are no bugs. Throw in another book called The Vertical Farm: Feeding the World in the 21st Century and Harry started digging deeper.
Attracting Your Target Customer (Listener)
Harry did some research on the vertical farming industry and saw where there is a lot of money pouring into the industry (like podcasting) and that means there would be money for marketing (especially during COVID when companies that might be attending events were grounded). Harry took his new interest in vertical farming and looked into starting a podcast on the subject.
How Is Your Show Different
Harry took his seven years of podcasting and started knocking on doors looking to talk to the CEOs and founders of the biggest players in the vertical farming industry.
He used his experience of 250+ interviews of podcast junkies and his year of running his own agency as his credentials and was able to secure some big guests. Once you get that first big guest the rest are easier.
The Show Needed a Sponsor
While interviewing one of the founders, he mentioned the show was still looking for sponsors. As he had built this relationship with the guest, Harry had lined up his first sponsor (followed by another and another).
Giving Your Audience What it Wants
The show is doing well, and Harry has had people wanting to the internet on the show, and other ideas. Some of these are being investigated and worked on now. These include a vertical farming newsletter (complete with sponsorships) and a vertical farming jobs website. The podcast, the newsletter, and the jobs site will all cross-promote each other. This was inspired by Jame Cridland of podnews.net who has a successful newsletter with tons of sponsors.
For More Information on Harry Duran
Check out his "Done for you" podcast agency at www.fullcast.co
Check out the Vertical Farming Podcast
Check out Podcast Jukies Podcast
Twitter: @verticalfarmpod
Mentioned In This Episode
Join the School of Podcasting and get access to step-by-step tutorials, live group coaching, and an awesome private Facebook group for networking and brainstorming.
See www.schoolofpodcasting.com/join
Sam Kinison's "Move to where the food is."
Harry Duran on Treating His Guests Like an Opportunity Instead of Transactions
Dave Jackson on Podcast Junkies: 018 Dave Jackson | The Importance Of Providing Your Own Unique Voice
Question of the month: www.schoolofpodcasting.com/question
Share The Show
www.schoolofpodcasting.com/show
Check out Fullcast Harry's "Done for you" podcast agency at www.fullcast.co
Check out the Vertical Farming Podcast
Check out Podcast Jukies Podcast
Like the show? Buy Me a Coffee