For a lot of people, podcasting is just a hobby. They think it's fun to talk about their favorite topics and share them with the world. But for some, podcasting can be so much more than that! It can become a business or even an income source. If you've been thinking about starting your own podcast, here are some tips on how to brand your show like a pro:
For entrepreneurs who want to start their own businesses and use podcasts as part of their marketing strategy, branding is important; especially when considering how unique each individual business should be in order to stand out among its competitors. If you're looking for ways on how to brand your show like a professional podcaster, keep reading
Picture this: Your audience is looking for a podcast on your topic in their favorite app. Before they see your reviews, your episode titles, and your description all they see is the title of your show, the author, and the artwork. With this in mind, they are going to SEE you before they hear you. This means that artwork can help grow your audience. Not by leaps and bounds, but when your artwork looks cheap and poorly done, it's not a large leap to think the content on that podcast is going to be cheap and poorly done. Sure, there are always exceptions, but on my Ask the Podcast Coach show we spent 90 minutes with award-winning graphic artist (and someone who has been podcasting for eight-year) Mark Des Cotes of podcastbranding.co. I've bumped into Mark for years at different podcasting events, but when he heard me talk about redesigning the logo for the School of Podcasting, the next day he delivered what was in my head. This lead me to have him redesign the Podcast Rodeo Show and Ask the Podcast Coach.
Branding is Much More Than What You Look Like
So many people think branding is a color combination, an image, a graphic. Your brand is the feeling people have when they think of you.
Let a Graphic Person Make Your Graphics
While I know my way around Canva, Photoshop, and Paint Shop Pro, that does not give me the experience of someone who lives and breathes graphics all day long. Here are some examples where I designed a graphic on the left, and I had Mark redo the graphic on the right.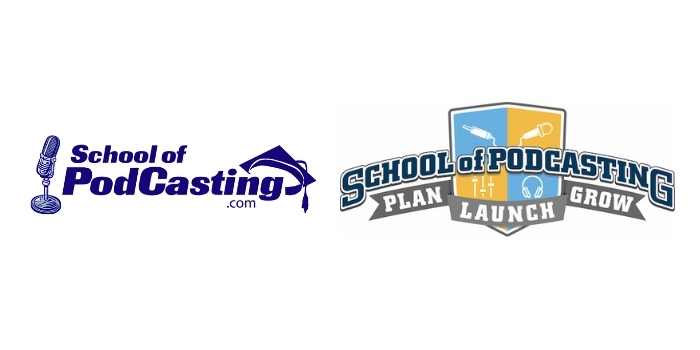 The microphone on the original logo had tons of detail that were hard to reproduce. The logo that Mark created incorporated my tagline and used a color palette that I could then incorporate into the website.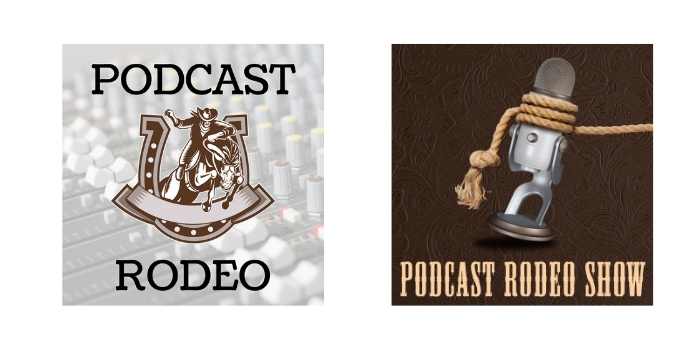 The one on the left was done by me using Canva. Again, not horrible, but the one that Mark did on the right incorporates the idea of the show (a quick review of your show's intro, and then yanking you off stage). Mark knew of my love/hate relationship I have with the Blue Yeti, and this again just shows I did more than assemble a bunch of clip art into my artwork.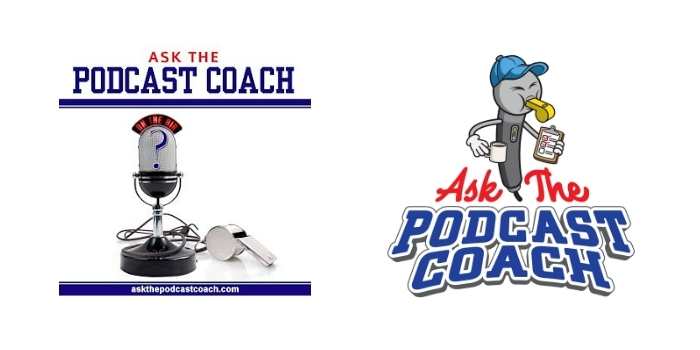 Here again, my attempt on the left was me finding some images, and putting some text around them. The image on the right from Mark incorporates the coffee mug of my co-host Jim Collison, and the clipboard of my checking things off. Throw in that the coach is a microphone and you've got a cool mascot.
Logo Vs Artwork
The letters KISS from the rock band KISS is their Logo. You might see their logo in the artwork for their album Destroyer, but the words logo and artwork are often interchanged, and that is not a good habit to develop. A logo and podcast artwork are two different things.
Your Podcast Artwork Specifications
These are not recommendations from Apple, they are specifications. If you don't meet the specs, there is a really good chance your show won't be accepted into Apple.
1400x1400px (minimum)
3000x3000px (maximum)
Under 500kb
Use rGB color space
Be a JPG, JPEG, or a PNG file
The one that everyone misses (and can cause issues with your show updating) is the file size. If you file size is over 500kb you can use the free app Squoosh to compress it (and resize it if needed)
Apple and Episodic Artwork
There are two types of artwork.
Show Artwork: This is the artwork for your SHOW. It is seen when someone goes to your listing for your SHOW.
Episodic Artwork: This is artwork you can (in some, but not all) apps. This should follow the same specs as your show's artwork.
Why Isn't My Artwork Appearing in Apple?
Episodic artwork is something you can add to your podcast. Keep in mind that while Apple's Web-Based Version WILL SHOW your artwork for your episode, the Apple Podcasts App WILL NOT. Why? Because (IMHO) Apple like's to make things confusing when it comes to podcasting.
Overcast.fm is one of the few apps left that read the image in the ID3 tags. Very few podcast apps use ID3 tags. ID3 tags are only used if your episode media is pulled outside of the podcasting space (for example if you download the media file to your computer and listen using Windows Media Player)
Consistency is Key to Reinforce Your Brand
Mark is not a fan of episodic artwork as people (like me) often go way outside of the color palette and your audience doesn't recognize your episode artwork. You might come up with a template that features your colors, logo, and episode number. The Feed from Libsyn does a great job with their episodic artwork
Should I Use My Picture in My Artwork?
If your face is recognizable, absolutely. If you're building a personal brand? Yes. If your goal is to be famous (and speak, etc) Yes.
These are reasons why you would want to put your face on your podcast artwork.
If you like the look of your face, sure – enjoy your vanity but there is no real reason in that case.
Don't Forget Your ALT Tags
The purpose of alt text is to improve accessibility by describing what an image is showing to visitors who might be sight-impaired. However, it also helps search engine crawlers and so improves SEO. You can check your SEO progress with a tool like Mangools.
Don't Forget To Think Outside the Box
You might want to think ahead towards the future. Is this something you might use on a t-shirt, business card, or other promotional items? You need to think about this now, so you don't up needing different artwork in the future.
Readability
While your artwork is huge at 3000X3000 remember this will be a fraction of that size when it makes it to the apps. Check out this tool to get a preview of what your app artwork will look like.
There is No Control Over Social Media
Social sites like Facebook, Twitter, LinkedIn, can have guidelines to share your show and your image will look fine on multiple platforms and then look bad on another. There isn't much you can do in that case.
Rebranding Your Show
If you've determined that you want to update your brand, keep in mind you can. Think of how Kentuck Fried Chicken morphed to KFC. It's the same location, same food, same logo, but they rebranded to KFC. Your Podcast is a recipe, not a statue. You can change the name, description, artwork, etc in your media host and it should update in apps after 24 hours.
The Advantage of Working With PodcastBranding.co
Mark is an award-winning graphic artist.
He himself has his own "Resourceful Designer" podcast.
There is no limit if you need revisions.
Mark wants to meet with you in person (Zoom, etc) to make the artwork matches your brand, and your brand matches YOU.
Mark did a branding audit for co-host of Ask the Podcast Coach Jim Collison, and in the end, didn't recommend much in regards to change. With this in mind, Mark is not going to charge you for a bunch of stuff you don't need.
One Way To Look at Price For Artwork
Mark charges $249 for podcast artwork. I've been using Mark's design for close to 2 years. That means it has been $125 a year. The more years you use it, the less expensive it becomes. By working with a graphic artist you get your artwork done correctly so you don't have to rebrand. Five years from now, you will have paid $50/year.
If that is out of your price range, there are services like Kapa99 who will design artwork for less money, but you're not getting someone who will take the time to make sure your artwork fits your brand, you may have a limit on revisions, and in my case (when I tried them years ago) there was a slight language barrier.
If you need free, there is always Canva. I make most of my graphics in Canva, and you will end up with something "that will do," but you saw the graphics I made above. When you have someone who leaves and breathes graphics, they will always do a better job. Remember they see you before they hear you.
What About Fiverr?
While I've used fiver for voiceover (where there is no music bed, just a voice) I've seen providers on Fiverr not only "borrow" artwork that they didn't design (and display it as if they did), I've also seen them take the actual advertising copy off of sites and use it as their own. I've seen people borrow designs multiple times. While in all cases Fiverr was quick to remove these "designers" it has lessened my enthusiasm for recommending them as a viable solution for artwork design.
QUESTION OF THE MONTH: How Long Does It Take You To Create an Episode?
Please Answer by November 26th
Many podcasters (especially new ones ) are surprised at how long it takes to create an episode. So this month's question is "How long did it take you to go from idea to published (not promotional actions just the planning, recording, editing, and publishing). Be sure to mention your website, your podcast, and a little bit about what to expect. Then let us know how long your finished episode was, how much time it took to publish, and if it was audio, video or both.
Go to www.schoolofpodcasting.com/question by November 26th
If you want something to help track your time check out Rescue Time, Toggl Track, ATracker Pro, Rize(there are a ton of these)
This 41-minute podcast took six hours and 28 minutes. This was done over four days, with the last day being Sunday with a football game on in the background. It was just a solo show with no video. If you found it of value, feel free to buy me a coffee.
Mentioned In This Episode
podcastbranding.co (Mark's Company)
Follow the Show and Never Miss an Episode on:
Apple – Google – Spotify – Amazon
Check out New Podcast Apps for apps to stream bitcoin to podcasters.
Did You Get Value From This Episode?
Enjoy the Show? Buy Dave a Coffee
and give some of that value back.