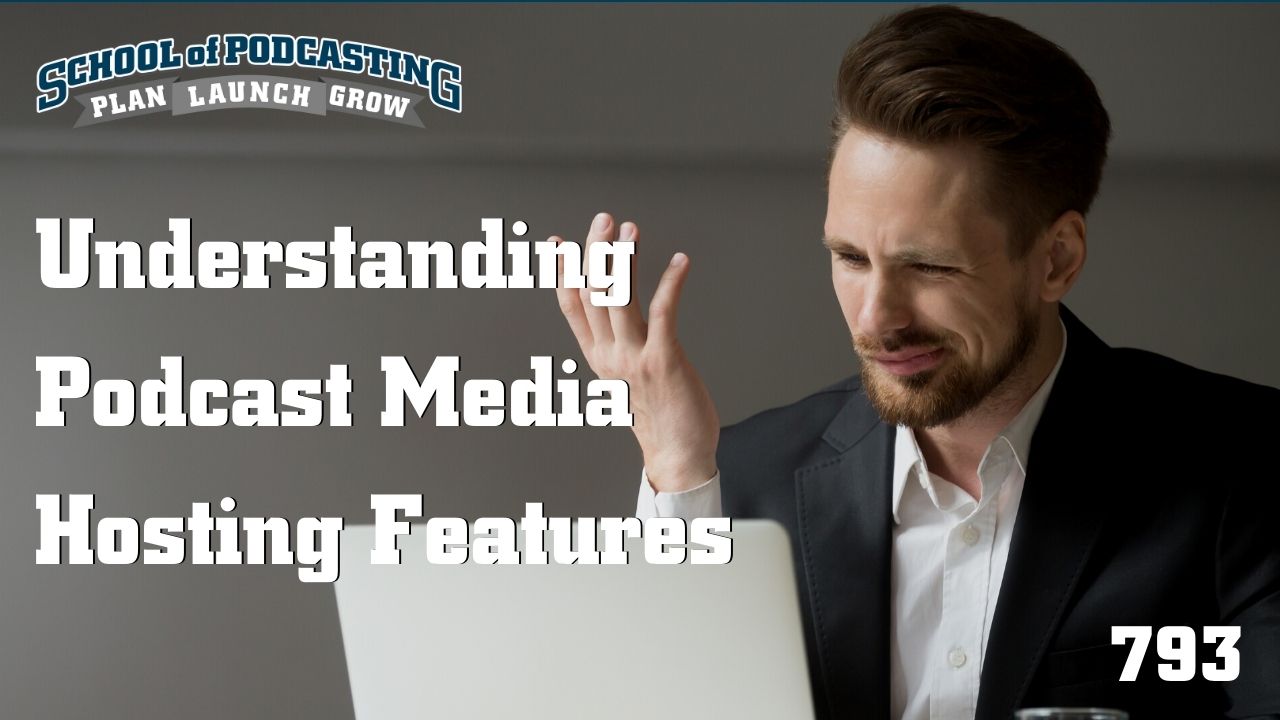 Every Facebook has the question, "where should I host my podcast" about six times a day and every response gets about 17 replies. I realize that question is sometimes confused by the different features, and business plans so this episode is here to help you understand podcast hosting companies.
Full Disclosure:
I work for the podcast media hosting company Libsyn.com (get a free month using the coupon code sopfree). I've tried to write/record this stating fact, and clearing state up front when I offer an opinion.
Sponsor: Novel Marketing Podcast
A lot of podcasters plan to write a book but they don't know where to start. Our sponsor the Novel Marketing Podcast is here to help. Thomas Umstattd Jr is a wealth of knowledge and he can get you going in the right direction. Check out https://www.schoolofpodcasting.com/author
QUESTION OF THE MONTH
I need your answer by 9/24/21. The question is "What was the last thing you shared and why?" Be sure to mention the name of your show, the website and a little bit about your show.
Go to www.schoolofpodcasting.com/question
What is a Media Host
A company that serves your media files to your audience. They typically provide an RSS feed that is compliant with Apple Podcasts. They also provide stats.
Do I Need a Media Host?
The quick answer is Yes. Why? While Web Hosts may state, "Unlimited storage and Unlimited bandwidth" that is for web pages (not media files). When you use your web host as a media host, and you upload an mp3 file that then gets downloaded hundreds of times (if not thousands) when you first release it, it's not the bandwidth that is the problem. It is the resources. A web host can't keep up and your show is "hogging" all of the resources. This typically results in one of the following options:
1. They take your site offline
2. They strongly suggest you upgrade to a much more expensive package
3. An invoice for the additional resource you monopolized.
But what about my friend who has been "self-hosting" for years? (Maybe they aren't that popular. – And do you want to get "so popular" that you then have an issue (your site going offline) when YOU HAVE AN AUDIENCE??
What are IAB Stats?
The Interactive Advertising Bureau (IAB) is the body responsible for setting the measurement standards within the podcasting industry, and as of today,
The guidelines were put together by the following companies who had to agree on what constituted as a download"
Acast Stories USA • AdGear Technologies, Inc. • AdLarge Media • Adswizz Inc • Art19 • Audible.com • BlogTalkRadio • CBS Local • Condé Nast • Cox Media Group • Cyber Communications Inc. • Digital Advertising Consortium Inc. • DoubleVerify • ESPN.com • Libsyn • Midroll Media • Minnesota Public Radio • NPR • New York Public Radio • Nielsen • Pacific Content • Pandora • PodcastOne • Podtrac • RawVoice/Blubrry • RhythmOne • Sizmek • Slate • Triton Digital • Westwood One • WideOrbit • Wondery
In that report, they stated that 5% of plays come from a browser. I state this for those who choose a player based on it's look, which is likely to matter 5% of the time. The report stated that Spotify had 10% of the market and Apple had 59%.
On page 11 of 21 it states, "To count as a valid download, the ID3 tag plus enough of the podcast content to play for 1 minute should have been downloaded."
They also recommend that apps:
Employ an "automatic download unsubscribe" behavior (e.g. – stop auto-downloads after 5 episodes of non-listens).
In general, because their guidelines can be stringent, a hosting company that is NOT IAB certified may show MORE downloads than one that IS. Advertisers may be more likely to buy ads on a podcast that is using an IAB-certified host as those stringent guidelines take more steps to ensure a real person received the file.
Will Switching From One Media Host to Another Get More Listeners?
Notice the question I put here is LISTENERS. If I had asked, "Do I get more downloads? The question is quite likely YES if you move from an IAB Certified host to a NON-certified host.
If I had a corvette go on a runway in Arizona and go as fast as it could, and then repeat the same thing on a runway in Texas (assuming the weather situations are identical) what runway would the car go faster on? The answer is it wouldn't matter. The runway has nothing to do with the car. Likewise, your media host doesn't drive how many listeners you have your content and marketing efforts do. This assumes you've already listed your show on all the different podcast directories.
Going on Long Drives
I have been on long drives in the US that it took me over 24 hours to get to my destination. This is where things like comfort of seats, heating/cooling, sound system, in other words, "The environment" can boost your appreciation of one car over and another. On my trips, we took my brother's van. It had separate temperature controls for the back seat, cruise control, large captain chairs in the front. It was a better choice than my Toyota Camry. While it has cruise control, and AC, the seats aren't as comfortable and there is less room. The bottom line is you don't want to be strapped into an interface that is confusing, hard to use, and in general frustrates you.
Your Podcast Hosts Environment
Look at the things you will be doing on a repeated basis. While you enter your information about your show ONCE, you make episodes and check stats on a regular basis.
Do their stats make it easy to tell if your show is growing?
Where your audience is? And other information you may want (per GPDR guidelines you don't get demographic data on your audience. You might get some from Spotify, along with who their favorite artist is), but I recommend making your own survey with a tool like Voiceform.
Is the interface intuitive?
How much of a learning curve is there?
You can go to their support area and see what kind of documentation is available.
Understanding the Podcast Hosting Verbiage
Storage
Storage refers to how many episodes you can keep online, as well as upload each month. Having the ability to keep episodes online can boost your downloads (and hence the connection with your audience).
In the month of June of 2021, I had 23,133 downloads. 7845 (34%) downloads were from the four episodes I released in June. This means 15,288 (66%) downloads were from my back catalog. Some hosts have LARGE limits, but for me, I don't want a limit. If you want to hear my crappy first episode, it is there for you to hear. I do have people that say they have gone back and listened to every episode. That is amazing.
Downloads/Bandwidth
This is what you think it is. How many downloads you can have in a certain period of time.
Stats
Podcast hosting companies can display the following statistics:
Download numbers
Geographic Data
Information on what apps are being used
From there you can have breakdowns such as how many downloads per episode, per week, per month, averages and more.
Getting demographic data is illegal due to GDPR. You can get some demographic data in the Spotify Portal for Podcasters.
Website
Podcast hosting companies provide a website that is often at a bare minimum that allows your audience to listen and subscribe. Some offer more control over the look, design, and functions. Realize that a small percentage of people listen online (Google finds your website, brings visitors, who sample, and hopefully subscribe/follow). I have found podcasts and have never visited their website.
Private Podcasts
With the success of Patreon, most hosting companies offer some sort of private podcasting. This is where you can add additional episodes (or a different version) of your podcast in exchange for money.
Dynamic Ad Insertion
This is where you mark a spot in your podcast (usually on their platform after you've uploaded it) and their system will insert an advertisement into your mp3 file. These ads are sometimes called programmatic ads. When I tested these pre-recorded ads, I was paid .0017 per download. For every 100 downloads, I got 17 cents. Hosts can get paid much more by doing "host read" ads that are dynamically inserted into your mp3 file (again using their system).
Spots include pre-roll (before the episode starts) midroll (in the middle of an episode) and post-roll (the ad comes after the episode is over.
Mid-roll ad placements are slightly longer and cost more. They typically garner more engagement as they appear within the podcast's content. For more information on earning money with your podcast check out the book Profit From Your Podcast
Currently, Buzzsprout has dynamic insertion at the pre and post-roll areas. Red Circle enables you to place your own ads wherever you want. Podbean makes it easy to insert ads, and takes $1 per thousand downloads. Other companies like Libsyn, Blubrry have these features in their enterprise solutions.
Support
Support comes in many flavors. Some hosts offer live chat. Some offer the ability to schedule a phone call. (opinion) Your host SHOULD have tutorials to walk you through their system. They all have support email. Many have life webinars on a regular basis. If you're not sure who to choose, contact both hosts' support teams, and the first one to send a response from a human wins.
Transcripts
Some hosting companies offer AI create transcripts (Artificial Intelligence). For me, I'm not a huge fan of transcripts. I don't find them accurate enough to use for show notes/descriptions. I also feel we don't talk like we write or write as we talk. You can use a service like Otter to do this yourself.
Audiograms
Some hosts either have their own tools to make a snippet of your show called an audiogram to share on social. (Opinion) While these may add some shine to your brand, I'm not sure they boost downloads.
The Four Business Models of Podcast Hosting
There are currently four strategies for podcast hosting companies.
FREE Podcast Hosting
This model provides hosting for free. How is this possible? The cost of the hosting (yes, there is a cost to hosting and serving a file) will be paid via advertising. This has been tried by the following companies:
Podshow/Mevio 8/2005 – 4/2014 (116 months – 38.8 million dollars spent)
Podango 9/2006 – 12/2008 (27 Months)
wildvoice.com 7/2006 – 7/2009 (36 months)
mypodcasts.com 2007 – 2011 (estimated 48 months)
Audiometric.io 11/ 2012 – 8/2014 (21 months before being purchased by panoply and taken off the market)
Opinion Podcasting 11/2015-10/2017 (23 months)
Zcat 1/2016 – 1/2019 (36 months)
Whooshkaa 6/2016-5/2021 (53 months)
Red Circle.com 4/2019 –
Anchor – 2015 – 2019 (48 months purchased by Spotify)
One of the reasons this business model fails (See above) is to survive, the media hosts have to take a piece of the ad revenue. When a show gets big enough to get its own sponsors, they often leave the platform to move to other media hosts where they can keep the money for themselves.
According to Dave Jones of Podcasting 2.0 Anchor has 1,667,977 shows in the Podcast Index. 85% of them are dead and have not released an episode as Dave put it "Anything close to recently" which means there are roughly 260,000 out of 1,667,977 that are still producing episodes. Anchor/Spotify are the kings of cluttering up the podcast space (by a LARGE margin).
The top two as I write this are Anchor.fm and Red Circle. I've used both, and while I do not recommend free hosting (see above), I would recommend Red Circle.
Limited Monthly Uploads – Unlimited Downloads
In this business model, you get one set price per month to upload a certain amount of files. You then get an unlimited number of downloads. Companies that use this model are:
Libsyn.com
Blubrry.com
Podbean.com
Buzzsprout.com
Unlimited Uploads and Podcasts – Limited/Pricier Downloads
These hosting companies either limit the number of downloads you have. If you get featured, all of a sudden your file might not download as you have hit your limit. Others may raise your price if you go over a certain number of downloads.
Captivate.fm
Transistor.fm
fireside.fm
Things That Don't Fit the Above Models
Castos offers an unlimited number of podcasts, episodes, as well as downloads. (Opinion). I'm not sure this is a great business model as it opens the business for abuse.
Podbean also has an unlimited number of episodes and unlimited downloads for one podcast.
Speaker – Has unlimited uploads (up to 510 total megs for all of your shows) and downloads.
Blubrry is the only host that has (scheduled) phone support for basic podcast packages (not enterprise solutions)
Libsyn – Enables you to send to different destinations at different times. They also can monitor how many plays came from a guest or other source.
Captivate has a one-click Sponsor kit and recently added features for networks.
Buzzsprout has the ability to dynamically stitcher things onto the beginning and end.
again the mentioned features are unique features and you should visit each host to see a full list of features.
My Criteria For Podcast Hosting Companies
1. Don't mess with my file. What I upload is what I want people to download.
2. Give me the ability to have an unlimited back catalog (unlimited storage)
3. Don't limit my audience size (unlimited bandwidth)
4. Don't control my feed, and make it easy to leave if I choose to do so. I need to be able to put in a 301 redirect script.
5. Give me support.
6. Charge me for your service so you can stay in business
7. Give me stats so I can see what's working. It would be nice if they were accurate (IAB Certified)
Mentioned in This Episode
Libsyn.com (use the coupon sopfree)
Fireside.fm
Anchor.fm
Topics:
01:52  Question of the Month
02:28  Novel Marketing
03:46  Does One Media Host Deliver More Downloads?
08:58  IAB Statistics
10:37  Are IAB Stats Important?
12:22  Will Switching Hosts Bring More Downloads?
13:12  Storage
14:14  Downloads
15:22  What Kindof Stats?
16:23  Demographic Data?
17:08  Podcast Website
18:28  Private Podcasts
18:57  Dynamic Ad Insertion
20:47  Support
21:32  Transcripts
21:54  Audiograms
22:24  Media Hosting Business Models
22:40  Free Media Hosts
24:42  Why Free Media Hosts Fail
25:26  Limited Uploads – Unlimited Downloads
26:16  Unlimited Uploaded – Limited/Pricier Downloads
27:16  Unlimited Everything
27:42  Opinion My Criteria
31:18  Join the School of Podcasting
31:58  How to Choose?
35:07  Opinion on Transcripts
36:48  Opinion Audiograms
38:36  Opinion on Anchor.fm
42:00  Opinion on I Can't Afford It
42:31  Opinion- Busines Models
45:37  Opinion – All Things Unlimited
47:08  Facebook is Useless
49:17  Opinion: WordPress Feeds
51:53  be Careful Switching Hosts

Ready to Start Your Podcast?
I take you from idea to syndicating your show to the world. You don't have to worry about sounding stupid, buying equipment you don't need, or feeling like you're all alone. The School of Podcasting has step by step tutorials, a private Facebook group, and live group coaching to help you plan, launch, grow, and monetize your podcast.