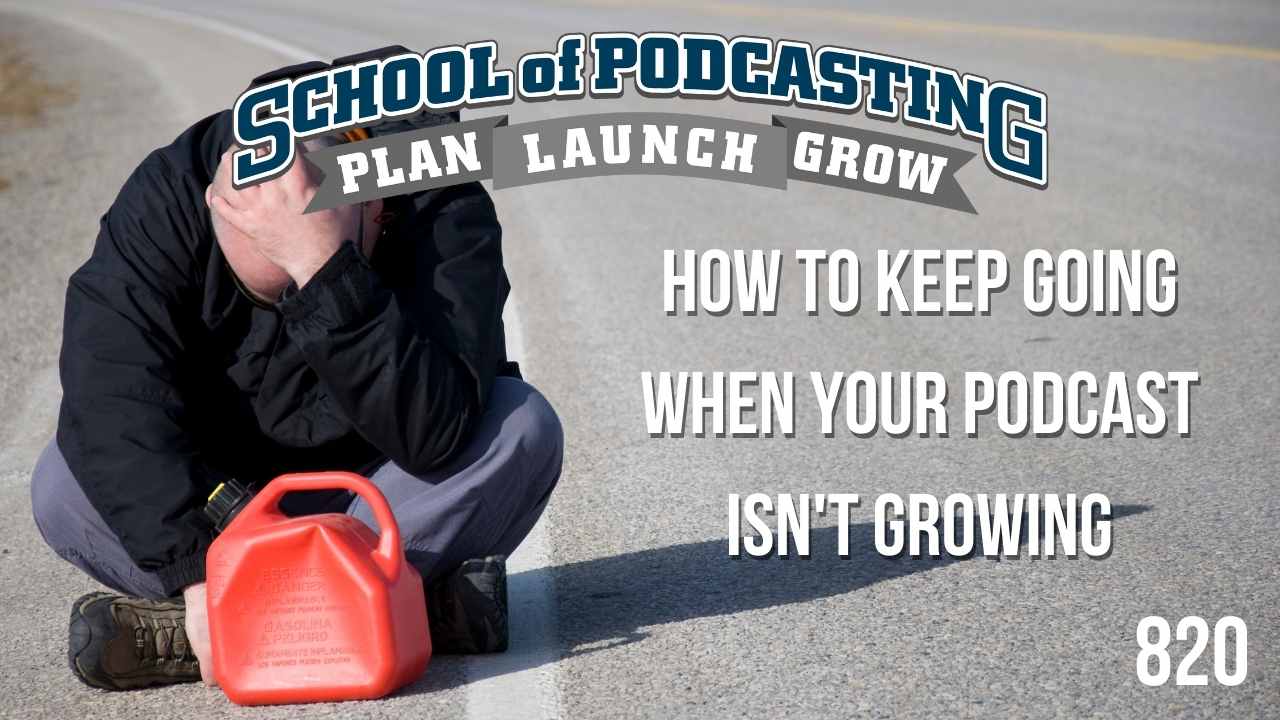 The excitement of starting a podcast can really fuel podcasters. You stats to start to grow, but eventually, they may level off. What keeps you going when your podcast isn't growing? What fuels your podcast motivation?
Join the School of Podcasting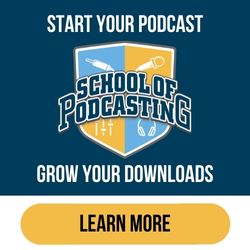 When you join the School of Podcasting you can quit worrying about:
Are people going to listen to me? (Yes, cause I'll show you how to see what they want).
Am I going to sound stupid? (No, as I'll show you the magic of editing)
It will cost a million dollars (No, I'll have you sounding like a million bucks without spending a million bucks).
I don't anything about this technology (You said the same thing about driving).
Get access to:
Step-by-step tutorials, live group coaching, a mastermind group filled with brilliant podcasting minds,  and the ability to schedule as many one-on-one quick fix calls as you like at no extra charge.
Join worry-free with a 30-day money-back guarantee
Go to www.schoolofpodcasting.com/start
Because of My Podcast: Fred Castaneda
Check out Fred's shows Podcast Reporter
The Struggling Biz show
March 29th is the National Day for Vietnam Veterans. Thanks for your service Fred!
Book Launch Secrets Webinar April 5th
April 5th I'll be co-hosting a Book Launch Secrets Webinar. If you've ever thought of writing a book, sign up for this webinar (so you can get the replay). See https://schoolofpodcasting.com/booklaunch or check out the Book Launch Blueprint Course
Thanks to Those Who Participated in This Month's Question
Kyle – The Intergalactic BoomBox – podcasting 2.0
Mark – History of North America – love of topic – working with son
Colby – The Guardians Ghost Podcast going solo, passion
Heather – Watching Netflix Without You  and the Politics free Podcast enjoys time with brother, serving audience to get into a better mood, feedback
Dan – Coffee and Space  – Loves having conversations
Scott – What Was That Like? https://whatwasthatlike.com/ – Zoom out and see your growth
Timothy – Create Art Podcast  and Find a Podcast About – is leaving a legacy
Matt – Rogue Retirement Lounge –  Loves the podcast 
Brandon – Start 100K Podcast   Feels his information is needed and doesn't want people to feel stupid. 
Things to Help with Podcast Motivation
Memorize a Positive Review
We all can recite the 1-star review we got about our show, but we can't remember a single positive review. I recently got a review in Apple Podcasts from Herodotus484 who said, "I've listened to all the podcasts geared towards podcasters & podcasting and this show is the best by far. Quality content, great pacing, and genial host make it time well spent every week. Bravo Dave!" (I was notified about this from My Podcast Reviews). I should mesmerize this and the next time I feel down, recite it.
For Those Who Don't Have Enough Time, Here Are Some Tips:
More planning leads to less editing.
Create Shorter Episodes
Find More Sources For Content
What Keeps Me Going
Next month (April 4th) I will celebrate 17 years in podcasting. When I first started, I said, "I think podcasting will change the world." As an educator, I saw the tremendous opportunity for communication and learning from each other. Sadly, while the opportunity to communicate is still there, these days I don't feel like people are interested in seeing another point of view. If I don't think like you (or vice versa) then the current culture ignores each other, or worse tries to cancel each other in a cage match to the death of recreational outrage.
Much like Tim, I see this as a longshot of immortality (which I realize makes me sound a bit ego-heavy). I spent myself in bankruptcy trying to have children and failed. I have great-nieces and nephews that I love dearly, but I dreamed of being a father growing up. As that boat has sailed, helping aspiring storytellers, entrepreneurs, educators, and entertainers launch their podcast into the world, is how I attempt to fill the dream of seeing something grow and flourish on their own.
When I help someone launch a show and later receive a "Because of My Podcast" story that not only helped the podcaster, but the audience member, as a teacher, when your student achieves their goal that you helped them achieve, it feels wonderful.
Question for April
Listen to hear this month's question of the month and then leave your answer at www.schoolofpodcastingcom/question 
Where I Will Be
Utah Podcast Coalition April 21st
Podfest Multimedia Expo  May 26-29 Orlando
Get A Free Month at Libsyn
Use the coupon code sopfree at libsyn.com
Mentioned In This Episode