I am running into more people who say things like, "I'll start my podcast as soon as (event)," or "As soon as I get (a piece of gear)." In some cases, they have been waiting for YEARS. So today I'm going to pull back the curtain a bit and show you how a podcast doesn't have to be perfect (as I leave in things I normally might remove)
Ready To Start Your Podcast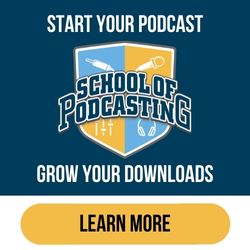 You may think nobody would listen to you, but I'm here to tell you they will. I have proven strategies to help you identify exactly what your audience wants. You will sound professional, and won't have to spend a million dollars to sound great. Learn through our online tutorials, live group coaching and a private Facebook Group filled with brilliant podcasters. Join worry-free with a 30-day money-back guarantee. See schoolofpodcasting.com/listener
Because of my Podcast: I Won An Award
Craig from te Live Well and Flourish started a personal show called, "Live well and Flourish" which lead to other podcasts that Craig created for Louisiana Tech University (where Craig is a Professor) and he won an innovation award for making podcasts to go along with a textbook he c-authored.
Learn From Other's Mistakes
I Had the Wrong Country in An Episode
I had typos in a blog post (due to multiple tabs)
Leave some "Margin" in your life so you can pivot.
Have at least one episode recorded and ready to go.
Replace your file with a new repaired file. with the exact file name.
If you're using Dynamic content, make sure your volume levels are consistent.
Spotify only uses mp3 files (so don't upload an m4a file). I recommend 128 kbps stereo mp3.
RX10 Is Released
This software has tools to clean up audio. We play "bad" audio and their "enhanced version" and again I say, sure this audio was somewhat shrill. I'm not sure spending $800 is worth the results. If you listen, there isn't a TON of difference. 
Check it out at
https://supportthisshow.com/rx10

You don't need this software to create a podcast. If you record things with a decent microphone, in a quiet area, you are probably "good enough." 
I'm not saying that you can do "whatever you want." Again, you are aiming at perfection but you land on "Very good." 
Mentioned In This Episode
School of Podcasting Affiliate
King's X Three Sides of One Amazon (aff) Spotify
This is episode 844 of the School of Podcasting part of the Power of Podcasting network.
Follow the Show and Never Miss an Episode on:
Apple – Google – Spotify – Amazon
Check out New Podcast Apps for apps to stream bitcoin to podcasters.
Did You Get Value From This Episode?
Enjoy the Show? Buy Dave a Coffee
and give some of that value back.