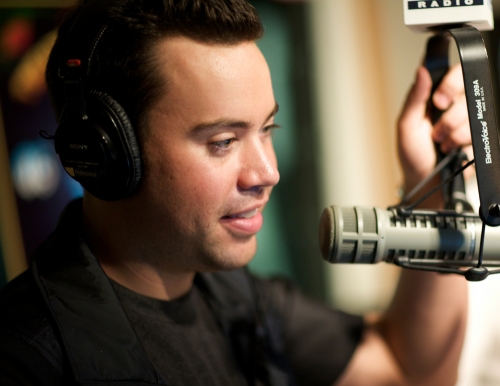 Today in episode 402 we interview Jordan Harbinger who is the co-creator of the Art of Charm podcast. Jordan has used his podcast to build a seven figure podcast. In this 45 minute conversation we he decided to leave his career as a lawyer and do podcasting full time. We also see how he prepares for each episode, how he protects his integrity, and how he accidentally created a business that new brings in seven figures a year. You can check out their website at www.theartofcharm.com
Podcast: Play in new window | Download | Embed
Subscribe: Google Podcasts | Stitcher | TuneIn | RSS | More
What He Did Before His Podcast [2:42]
Jordan was studying to pass the bar, and in his free time he found every blogger in the dating industry and network with them. He also joined forums about his topic. We see that Jordan went to where his audience was, connect with them, and THEN tell them about his podcast. When he first started, he was (like most people) obsessed about his stats.
He asked one of the partners in his law firm why he didn't seem to spend much time in the office, but made more money than others who did. It turns out that this person was generating business by being social. This lit the flame of Jordan studying social interaction and connecting with people. He read any book on networking and psychology.
People in their circles asked them write a book. He was already seen as an expert. He also took note of some of the people who were "Creepy" in his industry and decided he would NOT be like them.
He and his co-host AJ create a few podcasts. His podcasts became an "audio business card." His fans asked if they could pay them money to come stay a week with them. They offered $5,000 and Jordan said, "OK." When his listeners found out this was an option, people wanted to come and stay with AJ for the week. Without a lot of planning their business was born.
When Jordan traveled across the country he would meet people who had listened to the show. Jordan's experience as a world traveler enhances his ability to relate to people across the globe.
Podcasting Touches People's Hearts [18:00]
I heard a clip on Netflix from the Steve Jobs movie featuring Ashton Kutcher. In it Steve Jobs explains how the iPod enable technology to touch people's hearts.
Leaving His Law Job [20:19]
His company offered anyone a severance pay to leave when the real estate market went south, and Jordan took a 9 months severance pay and invested it into his podcast.
Jordan started reaching out to people in podcasting, and releasing on a regular schedule. He is currently experimenting with publishing more than once a week.
Equipment Doesn't Make the Podcast [23:00]
He currently has the same setup that he had when he did a Sirius Satellite Radio show, but Jordan states that the top equipment doesn't make that much of a difference. Cut out the weird silences, and all the crutch word (like "Um," and "um,"). If you have to cut out your "crutch" words, you will learn to stop saying them. Don't order a condensor microphone. These are made for radio STUDIOs and they will pick up all sorts of background noise. You need a dynamic microphone like an Audio Technica 2100
Using What You Know [29:30]
Jordan used his networking skills to get an appearance on Satellite radio show. He then made a bet that ensured they would be back on the show. They transformed the producer of the show by having him attend a boot camp, and the program director ended up giving them a show. They would get 5 times more callers than other shows in that time slot. Later they would be moved to the drive time evening slot.
Why Podcasting is Better Than Radio [33:30]
As Jordan has done both live radio and podcasting, and he says podcasting is better. They have a much more engaged audience through their podcast. So if you're thinking, "I'm never going to be radio" that is a good thing. With podcasting you can see the numbers to know how many people are consuming your show.
Staying On the Top of the Charts [38:30]
Jordan states consistency as a key ingredient of his success, but also being vulnerable and authentic. He talks about where he is struggling. He will use his guests to coach him in some cases.
He also has learned from mistakes in the past. He has doesn't have people on the show if they are not a good fit (even if they might bring a large audience).
He also stops people from blatantly selling on his show.
Getting Good Guests [43:30]
He often has his audience introduce him to new potential guests.
He does a quick five minute call to make sure they have a personality for radio.
He has his guests fill out a quick for to identify what they want to talk about on their show.
His prep time is twice as long as the show (so a one hour show takes two hours).
He also avoids guests who want to "wing it."
He asks guests for suggestions on other people for their show
Networking with Other Podcasters [50:00]
Jordan and Emily Morse create segments to play on both of their shows. If a podcaster shares a demographic, they will share tips (quick one or two minute tips). For Jordan he might make a tip about connecting with the women, and they might share a tip on getting in shape (which makes it easier to attract women). This is a great idea, but it is hard to put into place as not everyone has a show that you want to send your audience to hear. Some people may not promote your show as much as you promote theirs.
Keeping Your Integrity [57:00]
Jordan doesn't let just everyone attend his boot camps. Here again he is focused on his audience (in this his students). He could "Sell out," and take a check from anyone who sends him one. Instead he has the applicants call him to ensure that they are a good fit. As podcasters we all start with the same thing: integrity and zero listeners. The trick is to grow your listeners while maintaining your integrity.
Jordan Only Books Guests Who Agree to Promote His Show [1:02:00]
Jordan has his guests promote their show. This ensures a good guest, and also they know that the content has to be good as it's going to their audience in addition to Jordan's.
Check out the Art of Charm
The Art of Charm is a team of lifestyle coaches and social dynamics instructors. We teach the skills to become successful in both business and life, with an emphasis on social interactions. In short, we teach guys to be the best man that they can be – confident, charismatic, sexy and living the life they know they deserve.
You can test drive the Art of Charm classes for .99. for 30 days (and $67 dollars after that).
The Art of Charm Academy is a six-month total immersion experience that will guide you, step-by-step, through a process that will lead you to fully master your dating and social life — guaranteed.
The Academy is an interactive learning process based on what we call Active Learning (as opposed to passive learning). It's a set of principles that have been proven to be up 9 times more effective than "normal" forms of teaching and learning.
Unlike other "Just get women" kind of programs you can see where the ultimate goal of the art of charm is "How to get a long-term, committed girlfriend who will excite and inspire, and challenge you to grow as a man."
Check out the art of charm in iTunes
Podcast: Play in new window | Download | Embed
Subscribe: Google Podcasts | Stitcher | TuneIn | RSS | More
Launch Your Own Successful Podcast
Looking to touch people's hearts?
Looking to reach a global audience?
Promote your business or products?